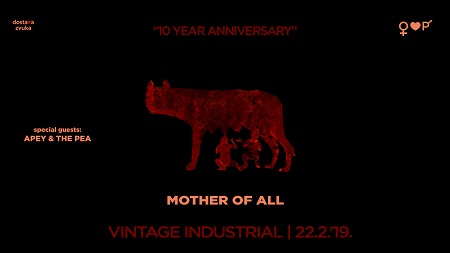 "Othranjeni na benzinu i čavlima" samo je jedna od upečatljivih i snažnih reakcija na
She Loves Pablo
zabilježena po izlasku njihovog prvog albuma 'Mother Of All' iz 2009. Jubilarni koncert povodom 10. godišnjice objave ovog razornog prvijenca najavljen je za 22. veljače 2019. u Vintage Industrialu. Bez hinjenog hypea, zagrebačka groove rock četvorka može se pohvaliti da u Hrvatskoj uživa izuzetnu naklonost svoje izgrađene publike uz koju na koncertima stvara eksplozivan doživljaj vrijedan česte usporedbe s velikim svjetskim imenima.
Pozornicu su dijelili s američkim underground rock prvacima Clutch i Karma To Burn, njemačkim stoner veteranima Colour Haze, te između ostalih i s braćom Cavalera, osnivačima kultnog metal benda Sepultura. Predvođeni prodornim vokalom Domagoja Šimeka, od osnutka 2005. godine do danas u više su se navrata otisnuli put Europe te svirali po Velikoj Britaniji, Švedskoj, Nizozemskoj, Italiji, Francuskoj, Švicarskoj, Njemačkoj, Mađarskoj te svim zemljama regije.
Hrvatsku underground scenu osvojili su na prvu debitantskim izdanjem 'Mother Of All'. Već odavno rasprodan u CD formatu, u veljači će konačno doživjeti svoje reizdanje na vinilu, a moći će se kupiti na koncertu. Naredna dva albuma označuju i stilsko širenje - 'Burn And Levitate' (2013.) prema radiofoničnijem rocku, dok 'Try Mandarin' (2016.) donosi žešći i siroviji zvuk, ali i kompleksniju strukturu pjesama. Trenutno rade na novom albumu s kojeg će prvi singl uz videospot izaći uskoro. Koncertni repertoar bit će fokusiran na slavljenički debi uz ekskluzivno predstavljanje dijela novog materijala.
Na poziv benda kao gosti će nastupiti
Apey & The Pea
iz Mađarske. Njihov mračni i agresivni sludge/doom izričaj doveo ih je u brojne klubove diljem Europe, kao i na velike festivale uključujući i ovogodišnje izdanje Szigeta. Zagreb je već redovita stanica na njihovim turnejama, pa tako i za nadolazeću europsku neće biti iznimke.
Ulaznice:
U pretprodaji 40 kuna, na dan koncerta 55 kuna.
Pretprodajna mjesta: Vintage Industrial (Savska 160) i Dirty Old Shop (Tratinska 18)
FB event:
facebook.com/events/129873191231270/
promo girl // 11/12/2018