Koncelebraciju ce predvoditi 3 banda
3 banda za sve nas i jednog
mušketira(Kiki)...
Zato,pomolimo se jer nastupaju...
BAKTERIJE
legendarni punk bend iz Čakovca,nastao davne 1995.Snimili 2 odlična albuma "Zajedno smo jači" i "Dižem svoj glas!" Kroz godine rada dijelili su pozornicu sa mnogim bendovima koje cijene - U.K. Subs, The Vibrators, The Casualties, One Way System, G.B.H., KUD Idijoti, Motus, No More Idols.Nakon godinu dana dolaze ponovo u Zagreb napraviti feštu kao i zadnji put
https://www.facebook.com/BAKTERIJE-278874735471905/?fref=ts
NO MORE IDOLS
svima dobro znani bend iz Zagreba sa preko 300 odsviranih koncerata u 14 država,ovom prilikom sviraju i neke sa nadolazećeg albuma,te se spremaju za svoju 4. turneju po Engleskoj
https://www.facebook.com/nomoreidolszagreb/?fref=ts
GAJBA
Ravno sa zagrebačkih ulica tvrda hardkor ojčina po uzoru na staru američku školu hardkora."Tvrdi aggro hardcore bez suvišnih preseravanja i metaliziranja, prljavi hardcore punk za pankere..."
https://www.facebook.com/Gajba.bend/?fref=ts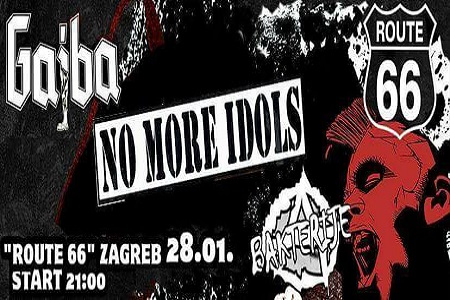 Početak mise: 21:00
Šare za "misu" možete kupiti na ulazu u kapelicu po cijeni od 20 kuna..
Budite dobri i udijelite koju kunu za našeg Kikija!!!
SLAVIMO PUNK,SLAVITE I VI S NAMA!
AMEN!!!
promo girl // 21/01/2017