U subotu 14. svibnja kreće u zagrebačkom klubu Route 66 novi alter party pod nazivom Dark Devotion. Voditelj programa tj MS je Davor V., strastveni sakupljač gramofonskih ploča i dugogodišnji akter koncertnih i inih alter događanja koji se odlučio okušati sa vlastitim programom. Do sada je odradio dva partija pod imenom Alter Party kojeg je zbog postojanja istoimenog promijenio u Dark Devotion. Dark Devotion je party na kojem će se vrtit alternativna glazba od post punka, preko dark i gothic rocka do ebm-a i industriala.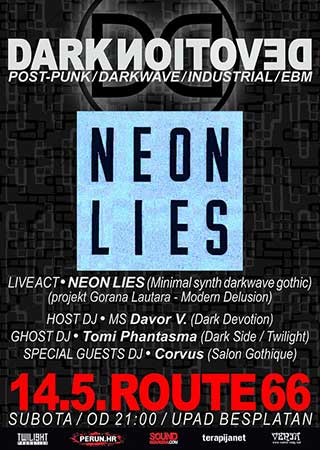 Ovoga puta kao gost nastupa minimal darkwave synth biser, one man band Neon Lies koji je počeo kao sobni projekt Gorana Lautara, frontmena distopijskih post-punkera Modern Delusion. Sam sa svojim jeftinim synthom s buvljaka i 4-kanalnim analognim uređajem za snimanje na traku, Goran je snimio gomilu pjesama u potpunoj lo-fi maniri, te je tako priča započela. Ako volite bandove poput ranih Tuxedoomoon, Suicide, DAF ili naprimjer synth punk/minimal u stilu The Screamers, Units, The Normal, nemojte propustiti ovaj sjajan 'band'. Kao gost djevi će nastupiti poznati zagrebački dj Tomi Phantasma, frontmen dark rock grupe Phantasmagoria koji vodi svoje programe Dark Side i Twilight u zagrebačkoj Jabuci i mlađe snage, dj Corvus koji vodi svoj program Salon Gothique.
Program započinje u 21 sat a ulaz je besplatan, a za one koji ne znaju, Route 66 se nalazi u Paromlinskoj ulici br 47.
promo guy // 10/05/2016