SNFU je bend koji je poznat po žestokim nastupima, melodičarskim i eksplozivnim riffovima, brzom ritam sekcijom i legendarnom glasu Mr. Chi Piga, koji je i sam poznat zbog svoje interakcije s publikom!.. Bend koji se nakon jako dugo vremena pojavljuje u našim krajevima, te se isplati jednu nedjelju odvojiti i provesti u Attacku!!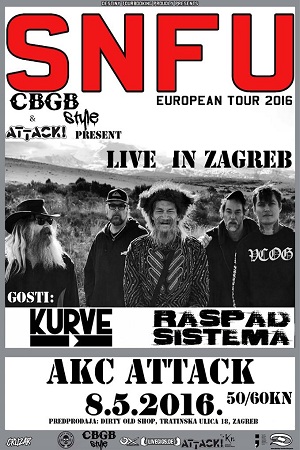 Society's No Fucking Use - hardcore punk bend osnovan 1981. godine u Edmontonu (Kanada), nakon što se pjevač Ken Chinn (poznat kao MR. CHI PIG) upoznao sa braćom Belke ( Mark i Brent ). Zajedno su skejtali i slušali pank, pa tako i sami odlučili osnovati bend. U svojim ranim godinama, SNFU gradi publiku diljem Sjeverne Amerike preko energičnih live nastupa i dinamičnog pank zvuka. Album prvijenac "And No One Else Wanted To Play" objavljen je 1984. godine, od tada su izdali sveukupno 10 albuma i navode se kao jedan od najutjecajnijih bendova skejt pank žanra. Nakon izdavanja još dva studio albuma, bend se raspada 1989. zbog problema unutar benda. 1991. SNFU se ponovno okuplja te potpisuju sa legendarnim indie labelom "Epitaph Records". Izdaju album "The Last of the Big Time Suspenders" a nakon mjenjanja ritam sekcije 1995. izdaju malo melodičniji album "FYULABA". Do 2005. braća Belke i Mr. Chi Pig nastavljaju i izdaju albume i sviraju po turnejama.. U kolovozu 2005., bend se ponovno raspada te braća Belke idu svojim putem (počinju raditi na kanadskim radio stanicama i svirati u drugim bendovima) a Mr. Chi Pig postaje beskućnik po ulicama Vancouvera i bori se sa zdravljem i ovisnosti s drogom.
2007. Mr Chi Pig okuplja ponovno bend, ovaj put bez braće Belke.. te nastavlja s radom do 2013. i izdaju album "Never Trouble Trouble Until Trouble Troubles You". 2009. SNFU sviraju na Dirty Old Festival u Velikoj! Od 2014. do danas bend svira u postavi uz MR. CHI PIG-A, basist Dave Bacon, gitarist Randy Steffes i Kurt Robertson(Dirty Kurt), i bubnjar Jamie Oliver.
https://www.facebook.com/SNFU-411449645607473/?fref=ts
http://www.cruzarmedia.com/
______________________________________
Kao gosti, ovu gigaru će upotpuniti sljedeći bendovi:
RASPAD SISTEMA
Stari zagrebačko - požeški anarho hard-core punk. Djelovali u periodu između 1999. -2003. godine. Izdali samostalni album za dhp-ak47 records, te se našli na nizu kompilacija. Svirali duž Hrvatske i Slovenije sa bendovima kao što su AK47, Intoxicate, Aktivna Propaganda, Nula, Fakofbolan, Mikrofonija, Wasserdicht, Radikalna Promjena, Hoću?Neću!, La Kurtizana... Preživjeli članovi originalne postave danas sviraju melodični punk rock, ali zbog toga ne dobivaju ništa više mufa, dok dio članova koji je paradirao kroz bend danas svira u bendovima kao što su Loš Primjer, Dislike...
https://www.youtube.com/watch?v=1vEpZpT9V90
http://raspadsistema.bandcamp.com/releases
______________________________________
KURVE
Kurve su petero polumladića iz Zagreba, iza sebe imaju dva EP izdanja - "Su Bolje Majke" i "Sjebane pjesme". Nakon promjene bubnjara i kratke pauzice zbog obiteljskih obaveza jednog od članova, dolaze u Attack promrdati vašu dupad svojim oštrim notama rokenrol pankčine i ritmovima karakterističnim za konjokradice na divljem zapadu.
https://www.facebook.com/kurvetine/info?tab=page_info
SU BOLJE MAJKE:
www.mediafire.com/?icx48yr9tpu7mwr
SJEBANE PJESME:
www.mediafire.com/?1no5j68jms4fu07
www.kurve.bandcamp.com
______________________________________
Pretprodaja: 50kn (6.5€)
Na ulazu: 60kn (8€)
Karte u predprodaji se mogu kupiti u Dirty Old Shopu, Tratinska 18, Zagreb, po cijeni od 50kn.. Na ulazu će karte biti po 60kn, ako ih uopće ostane!
Uz ovo sve, spremamo još jedno iznenađenje koje ćemo uskoro objaviti!! Stay tuned!!
promo guy // 16/03/2016