ZEUS! je eksplozivni bolognski duo sačinjen od basa i bubnja koji praši beskompromisni, hibridni, minimalistički kaos obilježen metal, punk, math i jazz elementima. Za neke, riječ je i o svojevrsnoj supergrupi sastavljenoj od Luce Cavine (Calibro 35) na distorziranom basu i neuništivim glasnicama and Paola Mongardija (Jennifer Gentle) na bubnjevima. U KSET dolaze promovirajući hvaljeni treći album MOTOMONOTONO izdan, među ostalim, i za Three One G Records Justina Pearsona.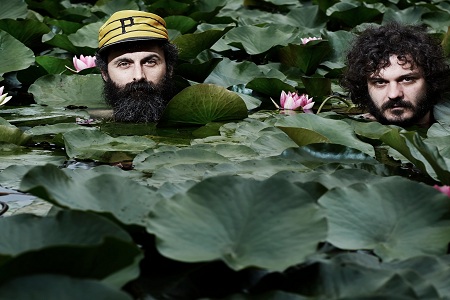 Pripadnici pokreta Metal in Opposition okrenutim protiv glazbene industrije (na tragu Rock in Opposition koji je djelovao 70ih), albumom MOTOMONOTONO, kao i s prethodnicima, žestoko razaraju mainstream poimanja glazbene strukture. ZEUS! cilja "dobiti maksimum koristeći minimum" glazbom koja je istovremeno staccato i fluidna, glatko klizeći iz matematičkog metala u noise punk nerede popraćene Cavinovim vrištanjem. Repetitivno, bučno "mljevenje" isprekidano je povremenim ambijentalnim, elektronskim dijelovima koji gotovo da služe predahu kako slušateljev mozak ne bi završio jednako usitnjen.
Web: http://zeuspower.it
Facebook: https://www.facebook.com/zeusband/
Bandcamp: http://zeuspower.bandcamp.com/
Youtube: 'Colon Hell' https://www.youtube.com/watch?v=cN6b3LMtQbs
'Grindmaster Flesh' https://www.youtube.com/watch?v=VTle-xG-074
Nije za one slabog srca. Karte za koncert možete nabaviti u pretprodaji u KSET-u po cijeni od 35kn, a na ulazu će karta koštati 45 kn. Ulaz se otvara u 20h.
Sa sobom je potrebno imati člansku iskaznicu KSET-a. Zelenu iskaznicu nabavite na ulazu (5 kn) ili preko dana na šanku KSET-a (0 kn).
"A band that is certainly not worried about labels that could be easily attached to them (jazz, punk, metal, rock, noise, experimental, math, etc.) but more interested in collecting experiences and new sounds that are the result of the battle between bass vs drums, and the collaborations that also fills the wax."
• Music&Riots Magazine
"As heavy as this band is, there always remains an air of playfulness and wit about them, which is what makes their music a refreshing, if not slightly terrifying, tidal wave in a sea of the musically monotonous."
• Becky DiGiglio, Three One G
Za zagrijavanje bubnjića zaslužni će biti zagrebački noiseri Ha Det Bra koji su se davno posvetili buci kao načinu života.
Osim svoje neizostavne uloge na underground sceni devedesetih, 2012. ponovne se okupljaju te ove godine izdaju svoj prvi pravi samostalni album Societea for Two s 11 već poznatih pjesama, te tri do tad neobjavljene.
Dočaravanje onoga što vas čeka neka obave rječitiji od nas:
"...može se ugrubo okarakterizirati kao čisti nepatvoreni gnjev, ironija iskežena u lice, gitara 'odvrnuta na 11′ i stotine brutalnih urlika…"
- Ravno do Dna
Bandcamp: http://music.hadetbra.band/
Facebook: https://www.facebook.com/HaDetBra.Band/
Live: https://www.youtube.com/watch?v=UQyjIC5j-kc
promo guy // 07/12/2015