Hope Sandoval na sceni se pojavila u svojim ranim dvadesetima kao back vokal Kendri Smith, koja je tada uz Davida Robacka činila dream pop duo OPAL. Nakon što je Kendra izašla iz benda, Hope je preuzela glavne vokale, no David, kao nositelj benda odlučio je nadjenuti im novo ime, nazvavši ih MAZZY STAR. Čini se da je to ime nekako više pristajalo uz muziku koju su kasnije svirali Hope i David.
Te znakovite 1990. Objavili su i prvi album "She Hangs Brightly" koji je bio mješavina psihodelije i shogazea i više je naginjao radovima OPAL-a, nego njihova dva naredna albuma. Nakon samo tri albuma MAZZY STAR su prestali postojati, Hope je krenula u solo vode, a David Roback kao da je iščeznuo s lica zemlje.
Šteta je bila velika jer, osim što ima predivan vokal i oku je uvijek bilo ugodno pogledati Hope. Tu i tamo bi se pojavila kao gost na nekoj pjesmi nekog izvođača, a najzapaženije su svakako bile Killing Smile DEATH IN VEGAS, Feeling of Gaze TWILIGHT SINGERSa i naravno, Sometimes Always THE JESUS AND MARY CHAIN.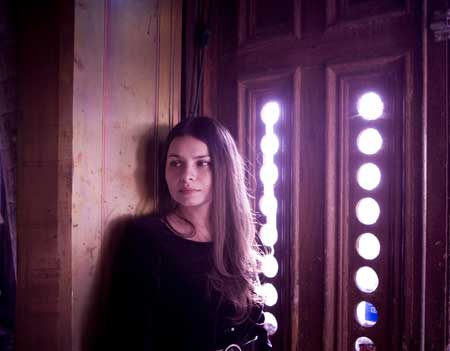 hope sandoval © www.hopesandoval.com
U međuvremenu je sa Colm Ó Cíosóigom, bubnjarem MY BLOODY VALENTINE, osnovala THE WARM INVENTIONSe, čiji drugi album upravo slušam.
"Bavarian Fruit Bread"
, debi album, objavljen je 2001., izbacio je psihodeliju iz MAZZY STAR razdoblja i ostao je samo vokal Hope-in.
Osam godina kasnije, naslov je odgovarajući - "Through the Devil Softly". Mračna, eterična atmosfera uz nježan i gotovo šapćući vokal Hope Sandoval vode nas na "nježno putovanje kroz vraga". Uz slide gitaru i klavijature, tu i tamo se pojavi čelo (Thinking Like That), usna harmonika (There's a Willow), a ponekad je dovoljan i samo Hope-in vokal i riječi
"I play death in the space of my life. That's how I feel, and I never think it twice"
.
Iako ovo nije najbolje od Hope, veseli činjenica da je ovdje među nama.
ocjena albuma [1-10]: 8

pedja // 12/09/2009
PS: Samo za informaciju. Novi album MAZZY STAR je na pomolu, MY BLOODY VALENTINE sviraju uživo - shoegaze rules!