Na albumu ima 13 pjesama, sve su instrumentali i obiluju synth melodijama, samplovima, elektronskim ritam mašinama s različitim tretmanima, te povremenim gitarskim pasažima. Kao singl izabrana je uvodna lagana electro dream-pop "Shiller" s ambijentalnim detaljima, no album ima i daleko jačih i prodornijih brojeva koji na prvo slušanje ulaze u uho.
Sam duet je nastao 2001. kada su se gitarist Mike Stroud i klavijaturist Evan Mast upoznali u njujorškom Skidmore Collegeu i tokom naredne tri godine snimili nekoliko kompozicija pod imenom Cherry. Debi album "Ratatat" objavljuju 2004. potpisavši ugovor sa XL Recordings gdje neprekidno objavljuju svoja oficijelna izdanja. Već s prvim albumom, kao i pratećim singlovima "Seventeen years" (2003) i "Germany to Germany" (2004) skrenuli su pozornost magazina Rolling Stone što im donosi plodnu studijsku suradnju sa Joe Satrianijem i Manowar usput radeći remikseve za Bjork, Animal Collective, The Knife, Shout Out Louds, Television Personalities i YACHT, te nastupe i turneje sa Daft Punk, Bjork, Mouse On Mars, Interpol, Franz Ferdinand, The Faint, Super Furry Animals, Clinic, The Killers..., a 2006. su bili predgrupom Mogwai na turneji po Japanu.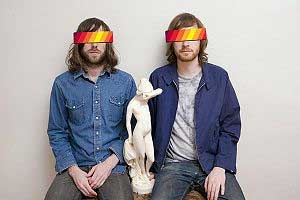 Uz uvodni singl "Shiller" još su objavljena dva; ležerni plesni "Mirando" u reggae/dub varijanti sa premazima synth melodija i natruha world-musica koji je reizdan početkom 2009. kao 'physical' singl, te dance electro/synth-pop "Shempi" koji budi uspomene stilizacija iz ranih '80-tih na new romantics zvuk Visage, Ultravox i Human League. Čitav album ima ugodnu i lepršavu elegantnu elektronsku pop atmosferu sa bogatim melodijskim strukturama syntha i isprepletenim gitarskim pasažima uz često korištenje samplova gudača, ritam mašina i povremenim glitch sintagmama. Osim electro-popa koji je zastupljen u najvećoj mjeri na prijatan i neopterećen način (pjesme "Falcon jab", "Bird priest", "Imperials"), Ratatat znaju zaći i u teritorij plesnog r'n'b-a ("Dura"), laganih prozračnih ambijentalnih pop kolorita ("Mi viejo", "Brulee"), pa čak i u smjesu sympho-popa s bogatim gitarskim space-rock minijaturama ("Mumatz Khan"), dok se vokalima koriste u svega jednom broju koristivši ih kao prateći laid-back element (reggae komad "Flynn"). U ovakvoj prijatnoj, vedroj i ležernoj atmosferi sa skladbama koje odišu prozračnošću i raznolikošću ideja, 40-tak minuta albuma prođe prebrzo jer je ovaj dvojac neopterećen stilizacijama i eksperimente koristi na pitak i vrlo fin način.
ocjena albuma [1-10]: 8

horvi // 03/03/2009