Tko nije volio Ganse u osnovnoj školi, da čujem? Nemojte mi se sad izvlačit, nije fer. Priznajem da ih je danas pomalo blesavo shvaćati ozbiljno i stvarno ne razumijem tko ih uz Axlove vokalne egzibicije uspjeva shvaćati ozbiljno, ali ako ste poput mene u trenutku izlaska 'Use Your Illusion' imali 10 godina, vrlo vjerojatno ste ih voljeli - ili barem slušali (razlika je drastična, no nije ni vrijeme ni mjesto - kad jednom krenem s digresijama, nema povratka).
Chinese Democracy je album na koji se u zadnjih 13 godina potrošilo 13 milijuna dolara. I, nevjerovali ili da, konačno je izašao. Što čovjek uopće može očekivati od albuma koji 'samo što nije izašao' već 13 godina, od benda čiji je zadnji autorski album izašao u vrijeme kad još niste imali ni dlake, a kamoli pojma o životu i ljubavi - znali ste samo ono što su vam govorili frendovi i Axl, a to se u idućih petnaestak godina pokazalo poprilično netočnim. Volio sam je, ali sam je morao ubiti? Sve što nam treba je malo strpljenja? Rajski grad u kojem je trava zelena, a djevojke lijepe? Teško je držat svijeću na kiši u studenom? Nemoj plakat, nebo je iznad tebe? Koji kurac?
Što se promijenilo, pitate se? Axl i dalje zvuči kao da će upravo zauvijek ostati bez glasa, izgleda još lošije nego prije, a na koncertima zaboravlja riječi pjesama koje je pjevao već, kako da kažem, više puta. E da, i nema više Slasha. Ni nikoga drugoga iz originalne postave, ali so fucking what, je li tako Axl? Svašta je Axl natrpao na ovaj album (nemoj jebat, Matija, pa kako li mu je to pošlo za rukom u toliko malo vremena?) - i nu-metal i hip-hop i trip-hop i latino gitare i Smashing Pumpkins i Queen i Doru i Martina Luthera Kinga (dobar, stari, nepretenciozni Axl) i rokenroul. Zabavan album, što da vam drugo kažem.
'The Street of Dreams' počinje kao 'Dracula mjuzikl' iz filma 'Forgetting Sarah Marshall' a završava kao Queen, novi singl 'Better' i završna stvar 'Prostitute' zvuče kao najlošiji trenuci Smashing Pumpkinsa, 'Shackler's Revenge' i 'Sorry' imaju skoro pa baš dobre catchy refrene (!), 'If the world' bi, da je pjeva seksipilni ženski a ne urnebesno samodopadni Axlov glas, bez problema bila 'urbani hit', 'Catcher in the rye' blesavom uhu kakvo je moje zvuči, hm, skoro pa bih upotrijebio izraz indie (upucajte me ako mi na pamet nisu pali Josh Rouse, Billy Corgan, Suede i, naravno, opet Queen), no odmah nakon nje slijedi neopisivo urnebesan intro u 'Scraped', a uvjerljivo najtresh stvar na albumu 'This I love' (za koju je tekst napisala Ivana iz trećeg be) bi bila predzadnjeplasirana stvar na Euroviziji (zadnji bi bili Britanci) ili predzadnjeplasirana stvar na Dori (zadnja bi bila kćer lokalnog mesara koja ima tri sise i ne zna pjevat, al barem je bila na televiziji), svejedno.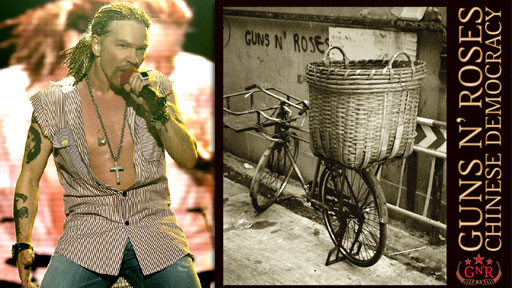 Internet je bog. Evo što su neki poznati i nepoznati rokeri rekli o Axlu i Gunsima.
''His role has been played for years. Ever since the beginning of rock and roll, there's been an Axl Rose. And it's just boring. It's totally boring to me. Why it's such a fresh and new thing in his eyes is obviously because it's happening to him personally and he's such an egotistical person that he thinks that the whole world owes him something.'' (Kurt Cobain)
''You know what pisses me off? I was reading this British rock magazine this month and there was a story about Axl Rose and the $13 million Guns N' Roses record that was never made. That motherfucker hasn't made a record in 13 years and he gets all that attention. You know what I've done in 13 years? A lot.'' (Jon Bon Jovi)
''This is the most lame CD I ever had the unfortunate experience of buying.'' (John Doe)
''This album is better than Jesus and World War II combined.'' (John Doe)
Ironija? Što je to ironija?
maršmelou // 01/12/2008