Iako o Surrounded ne znam mnogo, album sam poslušao zbog referenci. Ovaj četveročlani band je još jedan u nizu odličnih bendova koji nam dolaze iz Švedske i na last.fm su opisani kao "Masters of the celestial epic, SURROUNDED, from Sweden, creates atmospheres of fragile beauty by blending surrealist lyrics, mournful melodies, orchestral flourishes and spacey experimentalism with a subtle, cinematic sway from lo-fi to hi-fi. Encompassing a strangely beautiful rainbow of sound and emotion that twinkles beneath layers of cello, mellotron, radio chatter and synthesizers, their debut SAFETY IN NUMBERS envelops the listener with an entrancing collection of songs that range from the innocent to the insane, the troubled to the tender, the sweet to the sad."
Nakon opetovanog slušanja ovaj cijeli, dramatični opis bi se mogao zamijeniti s samo jednom rječju i ona je "Sparklehorse" jer zaista još nisam doživio da band zaista toliko identično zvući nekome drugome. 4 sekunde nakon sto krene novi album Surrounded, i prvi put progovori Marten Rydell (jer se to teško može nazvati pjevanje - u pitanju je šaputanje) sve je jasno - rijec je o bendu koji doslovno 100% kopira Sparklehorse. Za početak glas pjevača Surrounded je snimljen kroz onaj isti efekt kroz koji pjeva Mark Linkous a ni u samom zvuku nema razlike.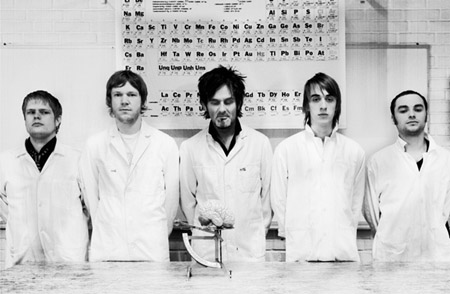 Surrounded
Iako možda Surrounded nisu originalni, ipak u konačnici treba napisati dobre pjesme a to njima sasvim dobro ide. "The Nautilus Years" je predivan album koji je vrlo lako slušati i guštati uz njega. Pjesme kao "Safe Tomorrow Sun" i "In Comfort's Tight Clothes" totalno oduševljavaju pa se nadam da ih ćeka svijetla budućnost, jer ne bi bilo dobra da završe kao Sparklehorse tribute band - predobri su za to.
U svakom slučaju, najtoplije preporuke svima koji vole Sparklehorse a i svima ostalima koji traže finu ugodnu dreamy muziku za izležavanje.
Surrounded - Safe Tomorrow Sun
ocjena albuma [1-10]: 8

kris // 29/01/2008