U konkretnom slučaju razlog postojanja omota je bitan, treba tu potrebu osjećati kao određenu nemogućnost da u psihološkoj doktrini od koje ljudi očekuju određeni uspjeh treba insistirati na onome što zapravo vidimo u tome, jer je to zatvoreni prostor u kojem se ljudi realiziju, kolektivno.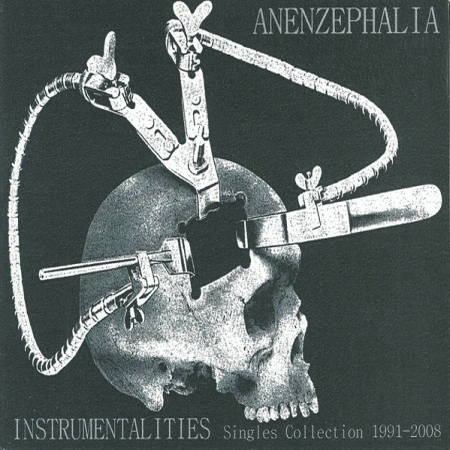 Da bi čovjek predočio svu slabost tog osjećanja postoji figura žene. "Ja sam naišao na dvije slike kojima sam stigao do treće, a to je ova na omotu, anencefalija, nerazvijen mozak". Razlozi su samo nagađanja. Ostalo što zatičem na jednom muzičkom izdanju su naslovi pjesama koji nemaju mnogo veze sa omotom, osim što omogućavaju i četvrtu sliku, koja je možda u tom nizu najbitnija.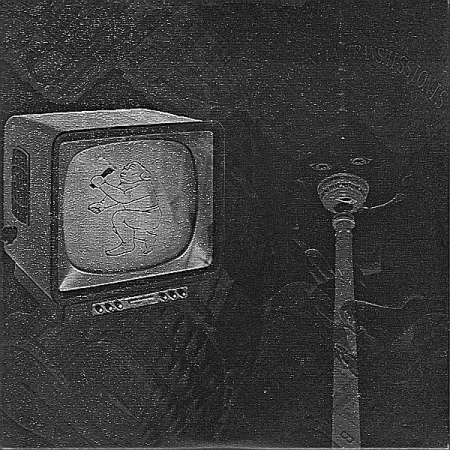 Pokušaj da slušamo muziku koja seže u duboku prošlost prepoznavanjem samo socio-antropološkog fenomena je vrhunac zloupotrebe i manipulacije, mogućnost da vas neko vrijeđa, s kojom se ljudi bore unutar sebe. To je kontrast. "Toliko godina pokušaja da uradim nešto sa samim sobom predstavlja samo 20 procenata mene od kojih je kontrast 80 procenata".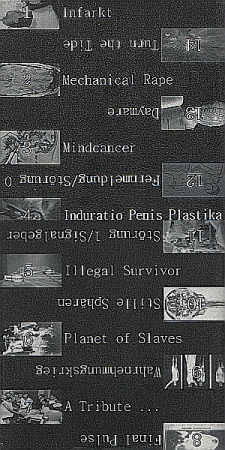 Jednostavno, kontrastni tipovi su potpuno začepili prostor razvitka i komunikacije bez vrijeđanja i mržnje. Ponašanje koje je u osnovi u periodu vaspitanja stečeno, da ne smijemo vrijeđati, ne smijemo mrzjeti nekog, je vrlo upitno u trenutku kad osjećamo pokušaj samoubistva ili samopovrijeđivanja. Kao filmsku preporuku i određenu dopunu ovoj recenziji možete pogledati video materijal "
Mane Žuđelović - Ray Ban Meltdown
"
vimeo.com/19417327
.
Naslovi:
_ From "Lyse"
:
1. Infarkt 00:00
2. Mechanical Rape 03:37
3. Mindcancer 08:04
4. Induratio Penis Plastika 11:27
_ From "New World Disorder"
5. Illegal Survivor 16:47
6. Planet Of Slaves 19:34
7. A Tribute... 26:25
8. Final Pulse 33:59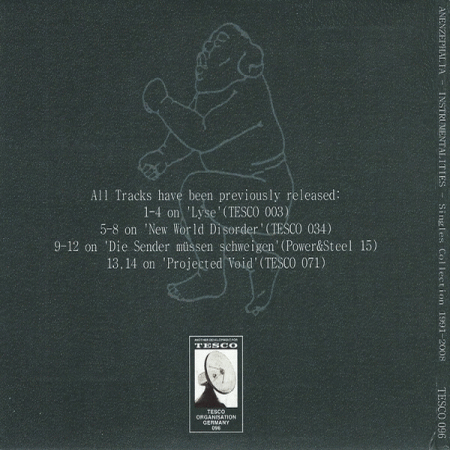 _ From "Die Sender Müssen Schweigen!"
:
9. Wahrnehmungskrieg 39:04
10. Stille Sphären 43:06
11. Störung 1 / Signalgeber 50:17
12. Fernmeldung / Störung 0 57:44
_ From "Projected Void"
13. Daymare 01:01:34
14. Turn The Tide 01:06:10
ocjena albuma [1-10]: 8

edo žuđelović // 25/04/2023