Četveročlani sastav iz Nantesa djeluje već skoro 10 godina (osnovani su 2008.), ali tek ujesen 2017. su realizirali ovaj debi album. Prije toga imali su self-titled EP (2012) i mini album "Waterfall" (2014), a onda su im konačno zaredali i vrlo značajni nastupi s kojima su izašli iz opskurnih krugova francuskog undergrounda zahvaljujući svirkama s bendovima Norma Jean, AqME, Psykup i The Butcher's Rodeo.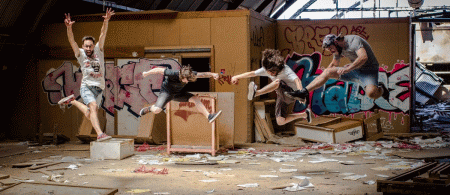 Kroz sve protekle sezone razvijali su visokooktanski spoj energije modernog r'n'r-a, power-punka, emo/hardcorea iz 90-ih, te alternativnog metala, a svoju inačicu definiraju kao Brutal Rock. I fakat, ovaj debi album sadrži upravo takvu kontemplaciju u kojoj se primjećuju i elementi metalcorea u omjerenim dezenima ipak prije svega ostajući privrženi rocku, onom podosta žestokom s ponekom aromom speed pejzaža. Uvodna "
Black eye blues
" svakako nije blues jer počinje poput najeenergičnijeg grunge riffa, no daljnji tijek se drastično mijenja: bubnjar kombinira učestale breakove, grlene višeglasne arije zalaze u hardcore štimung, te se kompleksnim aranžmanskim pristupom otvaraju široki horizonti.
Hit "
Bad jokes never die
" je komercijalnije koncipiran s upečatljivim arijama u refrenu naslanjajući se recimo na ranije At The Drive-In i Deftones, a onda se nižu komadi koji svako malo iznenade nekim potezom. Naslovna "
Gang of losers
" se zaputi u metalcore, "
Trucks
" pak vodi repetativan funk riff, tromiji tempo i neočekivani 'clean' vokal s mnogo pratećih grla, a "
Lovebug
" je pravi speed-rock pun eksplozivnih previranja. I onda se nakon prvih 5-6 pjesama otme potpuni dojam da nema nekog striktnog pravila jer nije ovdje ama baš sve u kontekstu brutal rocka. Neke pjesme imaju i laganijih intervala ("
Prick
", "
Bring out the flags
", "
Tame me out
"), "
Brume
" je još jedna od neočekivanih - riječ je o staccato instrumentalu u domeni post-rocka, dok je opet "
Exceptional
" kombinacija vrlo čvrstog alernativnog rocka, grungea, ali i post-hardcorea i post-rocka.
Sav ovaj vrlo širok spektar utjecaja i poprilično mnogo utkanih transžanrovskih medikamenata jasno upućuje na višeslojnost i tehničku predispoziciju kojim Time For Energy nonšalantno stažiraju godinama ironično se poigravajući i u lirskom kontekstu progovarajući o kurentnom vremenu stvorenom za rock and roll gubitnike bez obzira na žanr i svjetonazor. Nasmijavaju svojim smislom za pronicljivu šegu s mobingom, poslovnim pritiscima, seljačinama i sirovinama različitih vrsta kakvih u ovom dobu nimalo ne manjka, ali i s ulizicama i guzičarima stvorenim za laprdanje i dodvoravanje. Svi su oni banda gubitnika kojima se još mnogo sličnih horda može pribrojiti.
Naslovi: 1.Black eye blues, 2.Bad jokes never die, 3.Gang of losers, 4.Trucks, 5.Lovebug, 6.Prick, 7.Brume, 8.Bring out the flags, 9.Exceptional, 10.Tame me out, 11.Potion
ocjena albuma [1-10]: 7

horvi // 11/11/2017