Novi album njujorškog kompozitora Neil Rolnicka kojeg smo upoznali na ovim stranicama s albumom "
Gardening At Gropius House
" (2013) je ovaj puta dvostruko cd izdanje s poprilično dugačkim kompozicijama koje uz jasnu asocijaciju na futurističku distopiju 'ex-mašine' donosi i određeni rakurs razmišljanja o stroju, mehanici, motorici i komunikaciji između čovjeka i programirane kibernetike.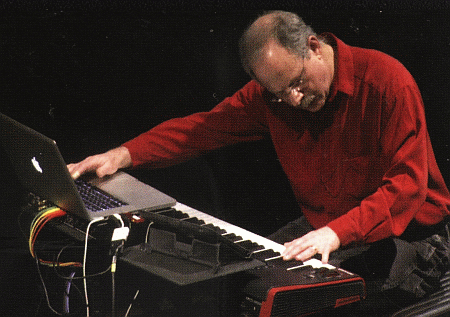 Neil Rolnick © EMPAC
S troje glazbenika (Ted Nash - alt saksofon, Ashley Bathgate - violončelo, laptop i Kathleen Supové - piano) razvio je skladnu egzibicijsku formu punu procesuiranih zahvata provukavši analogni zvuk kroz prizmu kompjuterske svirke. Rolnicku je već podulji niz godina kompjuter osnovni alat tretirajući ga glazbenim instrumentom, a ovom je prilikom bilo u duetima, bilo solo dopustio integraciju zvukova koje on čuje u glavi da se stvore analognim načinom u stvarnom vremenu i istovremeno procesuiraju digitalnim efektima pogodivši kompaktnu liniju kompjuterske i akustične glazbe. Saksofon u "
Silicon breath
", violončelo u "
Cello ex machina
" i piano u polusatnoj "
Dynamic RAM & concert grand
" uz svoje karakteristične zvukove dobivaju i dodatne dimenzije laptop metamorfozama s mnogobrojnim improvizatorskim izletima (a potonja i neočekivan odjek disco ritma).
Dvije solo izvedbe Rolnicka na laptopu potpomognutog klavijaturama, ili bolje rečeno tipkovnicom su zvrkaste vokodirane izvedbe "
WakeUp
" sa samplovima "Wake up little Sussie" i "All I have to do is dream" Everly Brothers, te "
O brother!
" koju je otpjevao njegov brat Peter na način arhaične američke roots ostavštine pradavnog tradicionalnog izričaja koji u hipsterskim krugovima ponovno biva revaloriziran. Dodao im je sintetičke oblike, tako da u konačnici od nekakvih predrasuda s grozomornih 100-tinjak minuta materijala dobiva se vrlo simpatičan neo-classical izraz s mnogo 'pop' šmeka, honky-tonk improvizacija, plesa i jazzy ugođaja. Nimalo zastrašujuće, već vrlo duhovito i zabavno.
Naslovi: CD1: 1.Silicon breath, 2.WakeUp, 3.Cello ex machina
CD2: 1.O brother!, 2.Dynamic RAM & concert grand
ocjena albuma [1-10]: 7

horvi // 27/01/2017