Iako nisam konzument glazbenih pravaca koji u sebi sadržavaju nešto kao prog- ili simfo-, a da ne kažem da bježim od benda kojeg uspoređuju s PINK FLOYDima, s PRR dogodilo mi se nešto sasvim čudno…
Naime, do mojeg (žednog) uha prvo je dopro njihov singl The Intention Craft koji me neodoljivo glasom i glazbeno podsjetio na CHARLATANSe iz njihovih najboljih dana. Kako su CHARLATANSi upravo tih dana objavljivali novi album, bilo mi je sasvim logično da je to to. No, začudila me činjenica da je pjesma ustvari duet s nekim ženskim vokalom koji mi je bio potpuno nepoznat, uz to što CHARLATANSi nikad nisu imali snimljen nijedan duet. No, nikad se nezna.
Tražeći neke zapise o novom albumu CHARLATANSa uvidio sam da nikakav duet nije spomenut, pa mi nije preostalo nego se preorijentirati i pronaći tko pjeva ovu genijalnu stvar. Trag me odveo do benda PURE REASON REVOLUTION, za koje je svugdje pisalo da su novi FLOYDi i to me malo zabrinulo. No, morao sam provjeriti o čemu se tu radi.
Album koji se upravo pojavio na "tržištu", The Black Third, ima 9 pjesama ukupnog trajanja 55, s tim da najkraća pjesma ne traje manje od 5 minuta, a najduža pjesma traje 12 minuta, što svakako miriši na najbolje od prog/simfo rocka.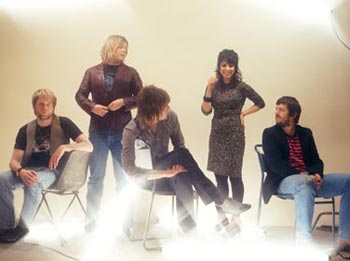 Aeropause, koja otvara album, je space-instrumental koji se nastavlja na najbolju flojdovsku tradiciju s tipičnom Gilmourovom slide gitarom. Dvanaestominutni ep Bright Ambassadors Of Morning koji je odabran za singl, ima svoje uspone i padove, no u cijelom svom trajanju uspijeva zaokupiti slušateljevu pažnju. Kroz cijeli album sve do kraja, odnosno do dijela posljednje pjesme pod nazivom Ambassador's Return (koji se tu morao naći, jer svaki iole ozbiljan prog/simfo album mora imati neki intro/outro ili prelude/return koji u sebi sadrži melodiju koja bi se mogla nazvati niti vodiljom kroz album) stvorena je mirna i smirujuća atmosfera u kojoj se izmjenjuju muški i ženski vokal s gitarskim dionicama i pravim malim simfonijama.
Malo razočaranje nakon preslušavanja cijelog albuma jest to što niti The Intention Craft, kao jedan od prijašnjih singlova, a niti jedna malo žešća pjesma koja se nalazi na b-strani tog singla nije zastupljena na ovom albumu. Očito su htjeli napraviti konceptualni album i napravili su ga, što mnogima koji su to dosad pokušavali, uključujući i legendarne THE BEATLESe, nije uspjelo.
Unatoč mojoj averziji prema, na početku, spomenutim glazbenim pravcima, ovo je album kojeg toplo preporučam svakom konzumentu glazbene kulture, jer će se uz PRR naći trenutak za svakoga, kao što sam ga i ja pronašao. Tako ću sebi za gušt, ako baš moram, PRR uspoređivati s meni dragim MUSE, … AND YOU WILL KNOW US BY THE TRAIL OF DEAD, SECRET MACHINES ili SMASHING PUMPKINS iz faze "Mellon Collie and the Infinite Sadness", a ne s PINK FLOYD, YES, KING CRIMSON ili drugima.
ocjena albuma [1-10]: 8

pedja // 11/05/2006