Na ovome split mini albumu s po 3 kompozicije zastupljeni su Yu-chi, japanski multiinstrumentalist iz Niigata i Anata Wa Sukkari Tsukarete Shimai, škotsko-englesko-japanski projekt čije ime u prijevodu s japanskog znači 'ti si potpuno iscrpljen'.
Za Yu-chi kaže press materijal da gitaru svira od malih nogu, obožava Bacha, Chopina i Debussyija, a kod kuće je imao 'strašnu' potporu roditelja koji su mu rekli da neka svoju glazbu svira i snima kako zna i umije. U ova 3 kratka priložena instrumentala svira akustičnu gitaru, violončelo, klavijature, bubnjeve, harmoniku, služi se brojnim samplovima i elektronikom, te se pokazao kao inovantan glazbenik koji je iskoračio iz klišeja na teritorij spajanja pop i klasične glazbe što je najbolje uočljivo u elegično-komornoj "The first star". Posebno je zabavna tema "Toy joy" u kojoj uz veselu minimalističku melodiju na harmonici i akustičnoj gitari kao ritmičku potporu koristi živahan pseći lavež.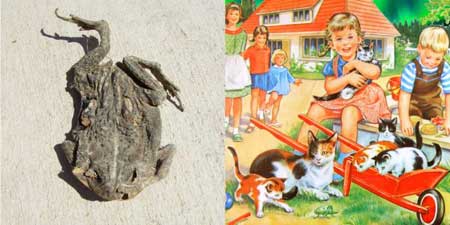 Anata Wa Sukkari Tsukarete Shimai svoje kompozicije grade na laganom psihodeličnom ambijentu pod primjetnim utjecajem shoegaze, dream-pop i indietronice s dodatkom eksperimenata. Pripremajući novi album, dali su ove 3 pjesme na remiks preradu u ruke Gluida iz Nizozemske, Škota Jim Childa i Norvežana Rune Martinsena. Ne bih se htio kladiti kako one zvuče u originalima jer su ovakve kakve jesu slobodnih formata koji ne ukazuju na jasniju stilsku karakteristiku. Muški dream-pop/shoegaze vokali (na engleskom) su posve potisnuti u background, blago nafilani škripavim i snenim efektima u najduljem komadu "Cataract (Gluid remix)" s okusom prizvuka eksperimentalnog popa Sylviana uz vodeću melodiju na ksilofonu. Odranije znana "Lost in the forest of blank sportswear (Jim Child mix)" s kompilacije
"Run Over By An Elevator"
tek neznatno je izmjenjena klavirska sonata potkrijepljena post-rock elementima (distorzirana gitara je odsvirala solidnu psycho improvizaciju), a za posljednju "My drive (Rune Martinsen remix)" teško da se išta konkretnije može utvrditi budući da je riječ o mračnom elektronskom drone komadu u kojoj je vokal gotovo na ivici čujne frekvencije.
Generalno gledajući, ovaj kompletan materijal od 25 minuta ništa bitnije ne odskače od istraživačke etike Bearsuit Records. To je upravo ono što se od njih i očekuje u pogledu eksperimentalnog elektro-akustičnog popa po kome prednjače nad recentnom svjetskom produkcijom.
ocjena albuma [1-10]: 7

horvi // 21/03/2013