Kanadski post-grunge/ hard-rock bend Theory Of A Deadman koji se trpa i u fah alternativnog rocka zbog zvuka distorziranih trendly gitara, slovi kao mlađi brat Nickelback, te je omražen od strane kritike kao još jedan u nizu onih besramnih copy/paste bendova na čijem su čelu nekad stajali Status Quo, Uriah Heep i Queen u prvoj fazi karijere, a danas stoje Hinder, Seether, Saving Abel i naravno Theory Of A Deadman, te Nickelback. Često su napadani i ponižavani, albumi su im dobivali vrlo niske ocjene, ali su zato na tržištu prolazili odlično.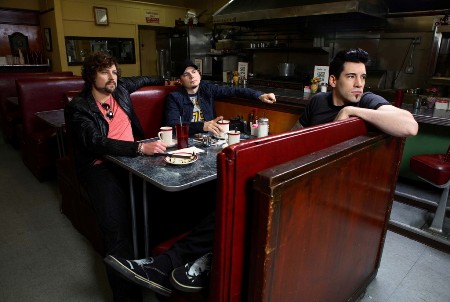 Klupko im se počelo odmotavati kada su nakon drugog albuma "Gasoline" (2005) održali turneju sa Shinedown, No Address i Breaking Benjamim, a potom su im neke pjesme uvrštene na soundtrack za video igru "Farenheit". Album im je dosegao zavidan USA no.58, a onda su dobili poziv od one komične hrvačke parodije World Wrestling Entertainment (WWE) da prirede dvije prigodne pjesme. Bile su to obrade "Deadly game" (original sa kompilacije "WWE Anthology"), a potom "No chance in hell" od Vince McMahona. I tada koliko god da su ovim potezom postali prezren, omalovažen i potpuno degradiran bend kod kritičara, zadobili su istovremeno ogromne simpatije sasvim obične mainstream publike tako da im je treći album "Scars & Souvenirs" (2008) prodan u impozantnih pola milijuna primjeraka, a s njega je poskidano čak 8 hit-singlova!!! Posvemašan medijski katapult, mač s dvije oštrice bend si je priuštio kada je objavljen drugi singl "Bad girlfriend" (USA no.75, USA Rock no.1) koji govori o glumici Christine Danielle, inače suprugi frontmena i gitariste Tyler Connollyija koju je uzdigao u nebesa kao najatraktivniju ženu kojoj se nabacuju svi muškarci na svijetu. Novi minus na račun benda usljedio je kada se Connolly upustio u kolaboraciju sa popularnim belgijskim DJ-om Regi Penxtenom s kojim je snimio dance pjesmicu "Loaded gun" koja je 2009. postala omanjim disco hitom. Zahvaljujući rapidno uzlaznoj popularnosti s obzirom na negativan rejting koji ih je pratio, održali su 8 velikih turneja na kojima su između ostalog nastupali sa Stone Sour, Motley Crue, Drowning Pool, Godsmack, Alter Bridge i Black Stone Cherry.
Ovaj četvrti album odmah je u startu dosegao do sada najbolju poziciju na američkoj listi (USA no.6) ostvarivši tiraž od 38.000 (u Kanadi no.2 sa 8.500) prodanih primjeraka u prvom tjednu po izlasku, te se bendu vjerojatno smješi i prva milijunska cifra budući da ponovno nosi sijaset potencijalnih mainstream hitova. Za usporedbu, "Scars & Souvenirs" je u prvom tjednu prodan samo u 6.000 komada. U principu, ovo je upravo ona roba koja se traži i prodaje u ovom trenutku - to su lakoprobavljive rock pjesme za komercijalne radio programe, tako da ih naprosto može svatko pjevati i skandirati na koncertima. Pjesmice nose uglavnom prožvakane pričice o ženama, muškom viteštvu, bračnim ponudama, nekakvim idealnim emotivnim srcedrapajućim odnosima u kojima sve pršti sa nevinom zabavom iza koje stoji mačoidan gard veoma sličan nekadašnjem hard-rockerskom šepurenju (osobito u pjesmama "What was I thinking" i baladama "Easy to love you", "Love is hell", "Head above water"). Prvo su objavljeni singlovi "Lowlife" (koji doduše može zavarati da se možda radi o solidnom grunge bendu) i balada "Out of my head", a naredne uspješnice treba potražiti između pjesama "Hurricane" (pojačana gudačima), "Bitch is back", "Gentleman" (obje sa brass sekcijom) i "Drag me to hell" koje odreda neodoljivo asociraju na drsku krađu Aerosmith. Neke od pjesama bilo u melodijskom ili zvučnom pogledu podsjetiti će na mnogo toga još od vremena hard-rocka 70-ih i grungea 90-ih, a završna balada "We were men" je čista melodijska kopija hita "Boulevard of broken dreams" Green Day iz 2004. godine.
Kada se u kolopletu svakojakih pjesmuljaka s komercijalnih radio programa zavrti poneka skladba Theory Of A Deadman, ona može zavisno o kontekstu, zazvučati osvježavajuće 'alternativno' spram recimo Bryan Adamsa, Gibonnija, Vanne, Tonija Cetinskog, Avril Lavigne, Bon Jovija i sličnih, no u principu, riječ je o onom vrlo sličnom efektu kada se tokom 90-ih svašta pokušavalo utrpati u fah grungea i alternative (sjetite se samo Soul Asylum, 4 Non Blondes, Cranberries, Ugly Kid Joe, Spin Doctors) ili kakav je imao komercijalni nu-metal koncem prošlog stoljeća. Nepobitna je stavka da su Theory Of A Deadman repriza, bend koji nema apsolutno nikakvo svoje 'ja', nikakav autorski identitet, te da su sve pokupili od brojnih utjecaja koji su jasno uočljivi poput raznoraznih fragmenata Guns'n'Roses, Status Quo, Def Leppard, Nickelback, Nirvane, QOTSA sve do spomenutih Aerosmith koje su poskidali u većini slučajeva. A u principu, ovakav bend bi poželjela svaka diskografska etiketa. Originalnost i umjetnička sloboda ovdje su najmanje bitne...
Naslovi: 1.Lowlife, 2.Bitch came back, 3.Hurricane, 4.Out of my head, 5.Gentleman, 6.Love is hell, 7.The truth is… (I lied about everything), 8.Head above water, 9.Drag me to hell, 10.What was I thinking, 11.Easy to love you, 12.We were men
ocjena albuma [1-10]: 3

horvi // 14/08/2011