Već kao po poznatom scenariju, svaki mjesec ekipa Terapije bar jednom krene put Orpheuma, na neki od koncertnih doživljaja koji nam taj klub pruža. Na samo dva do tri sata vožnje od bivše i sadašnje prijestolnice RH, ovaj put se zaputila proširena ekipa sa željom da vidi velikog Modfathera na djelu.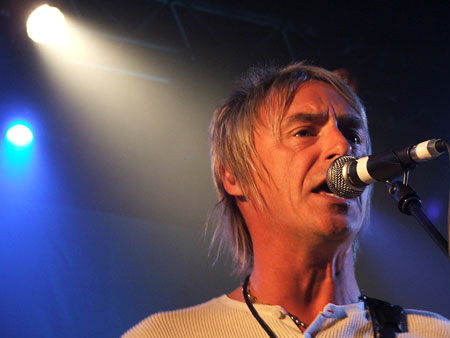 Paul Weller © Saša Huzjak
Iako predgrupa nije bila najavljena, ipak su postavili nekog na pozornicu da zabavi ljude, no mi smo opet naletjeli na naše drage Zagorce s kojima smo morali popričati pokoju, popiti pivo i pojesti perec. I naravno, pripremiti se za događaj koji je uslijedio.
Mislim, gušt je doći na koncert, za koji znaš u koliko sati počinje i kad otprilike završava, pa možeš izračunati i vrijeme spavanja te noći (naravno, ako nemaš malo dijete… tu sve računice padaju u vodu). U 21h svjetla se gase. Mi do prvog reda prošli kroz ljubazne i miroljubive austrijance ko kroz sir, imamo Modfathera na dlanu.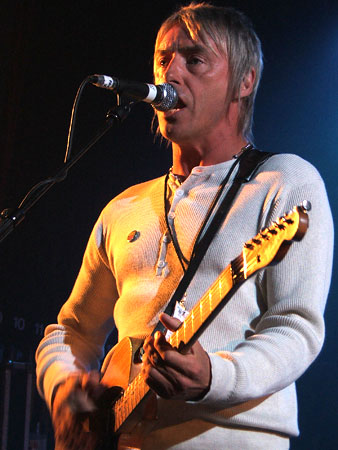 Paul Weller © Saša Huzjak
"Pepito pantalone", koledžice, majica uz tijelo kroz koju se nazire pužlica light (ipak čovjek ima skoro petbanki) i bedž na majici. (A mi se, krkani, nismo sjetili dobaciti mu jedan terapijski). Bend koji ga prati na turneji je vrhunski. Steve Cradock i Damon Minchella iz OCEAN COLOUR SCENE i Steve White na bubnjevima, koji ga prati još od doba STYLE COUNCILA. Stejdž minimalistički, s detaljima tipa britanska zastava na kojoj piše "Fire & Skill" ili pak navijački ručnik West Ham Uniteda (Hammers).
Otvorili su oštro s dvije nove From the Floorboards Up i Paper Smile, pa nastavili s klasicima tipa Peacock Suit, Out of Sinking i Above the Clouds. Sve štima. Zvuk fenomenalan. Svirači nasmiješeni, radosni i veseli, što uzrokuje spontani petnaestominutni jamm u prelazu s Porcelain Gods na Walk on Guilded Splinters. To ih je malo ostavilo bez daha, a i Paul nije skoro 45 minuta zapalio cigaretu, pa je odlučio malo usporiti. Sjeo je za klavir te odsvirao blok laganijih s par starijih i par novih, i usput prodimio par cigareta.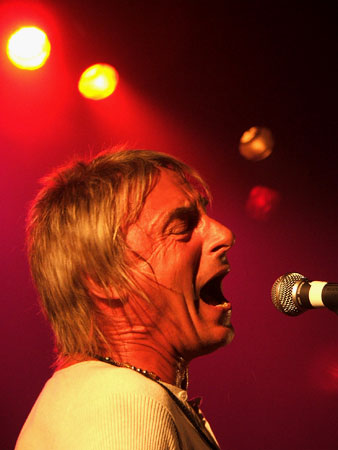 Paul Weller © Saša Huzjak
Skočio s mjesta, uzeo gitaru (koje mu je roudi uredno pripremao nakon svake pjesme) i zaprašio najžešču novu stvar Come On Let's Go na koju se nastavila In the Crowd sa 5 minutnim solom na bubnjevima. Sad su se kao opet namučili, pa su im doneseni stolci i akustične gitare, te je uslijedio anplagd dio u kojem su našle mjesta i All on a Misty Morning i You Do Something To Me, na koju su se zaljubljeni u dvorani raspametili. Kraj se bližio, jer se opasno primicalo 23h, a uslijedio je nakon klasika Changingman i Foot of the Mountain.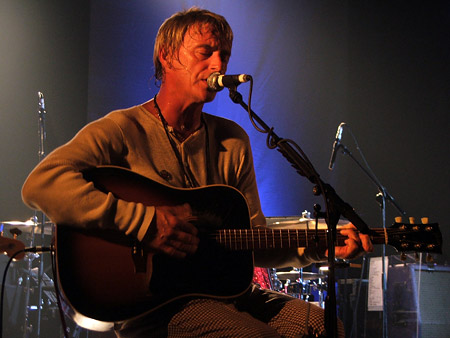 Paul Weller © Saša Huzjak
Za bis su ostavili Broken Stones i još jednu The Jam pjesmu Town Called Malice, poklonili se i otišli. Da je još odsvirao poneku više od The Jam ili bar jednu od SC, te možda Mermaids ili Blink and You'll Miss it bilo bi previše veselja za jednu večer.
Savršen koncert, bio bi još bolji da me drugo jutro nije zaskočila heamophilus infuenzae i prikovala me tri dana za krevet.
pedja // 26/04/2006

> vidi sve fotke // see all photos