Last Saturday was the 2nd day of the 2nd
Metal Punk Death Fest
in New York City. Saturday's show took a place at the Brooklyn Bazaar, a restaurant/venue place in the heart of Greenpoint, Brooklyn. On the first sight, the venue looked too fancy with all of the lights on the staircase, but when we came to the hall where the bands were playing, we forgot about everything!!!
We were a bit late because we cruised all over the trains and subways from Hoboken which took more then one hour, but the first band was also late. Lucky for us, we didn't miss anything! Their name is
Toxicology
and they come from New Jersey (same as we do, haha, maybe that's why we were all late). In almost half an hour they played their set of extremely fast and energetic grindcore. Even though there wasn't enough of audience (Oh, what a pitty!), they managed to induce pretty fine Moshpit! Our camera recorded one of their songs which you can check out on this link:
After
Toxicology
, the
War Orphans
from PA took the stage. This band members were obviously the youngest that evening so they were especially awesome to me (not just because they are the youngest). Oh, and they rock!!! I would say they play some kind of proto hardcore punk with influences in British Anarcho eighties punk scene. Vocalist was swimming all over the stage, while the girl on the bass made them all look even more pretty! I especially liked their mind blowing melodies on the guitar and atmospheric noise they produced between almost every song. I predict a bright future for this fellas!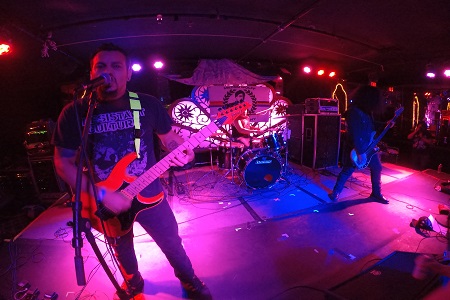 (A)Truth © tuna
The 3rd band that evening were the locals,
(A)Truth
. They rock the scene for almost 10 years. Their kind of music would be best described as Latino Hc Punk, which I always liked, but never had chance to see band like that live. So their energetic, ROCKING riffs made me really happy. And the drummer was flawless! On this following video you can see one of their songs dedicated to all the fallen Antifascists. Let them rest in peace and I hope I'm gonna see (A)Truth again here or back in Europe. Bringing one of the bands that sound that cool to country that I came from would be more than awesome!!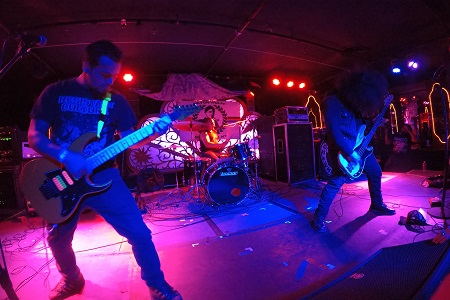 (A)Truth © tuna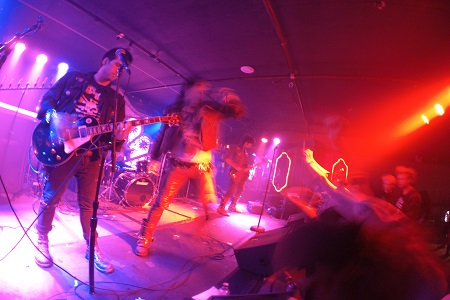 rotten uk © tuna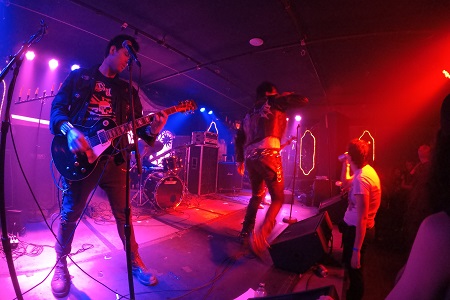 rotten uk © tuna
After (A)Truth,
Rotten UK
from Rochester, a city in the northern region of the New York State (almost 6 hours of driving from the Brooklyn) took the stage. When we came to the venue that evening, first people that we met there were the guys from the band and I gotta say we had more than a very good time with them. We are listening to their music for years and it has been a special pleasure to hang out with them and sing one of their songs on the stage. In almost 40 minutes they played all of their most popular songs from
Back to War
and
That is not Dead
lp's and they made us all have a great time there. I have to bring those boys to Croatia next year!!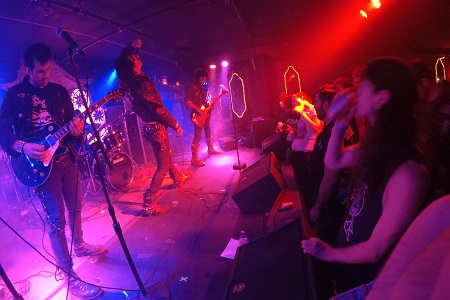 rotten uk © tuna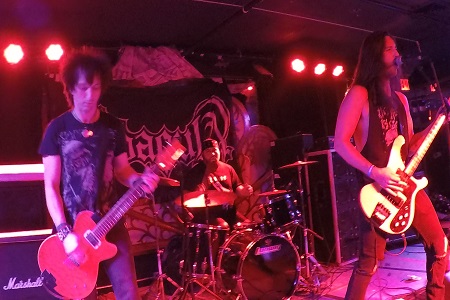 coagula © tuna
The next band was
Coagula
from Boston, MA! They play crust death/metal with some doom metal influences. They sounded sick! Yep, there is no band that evening that wasn't great, sick or awesome! There is a video of one Coagula's song: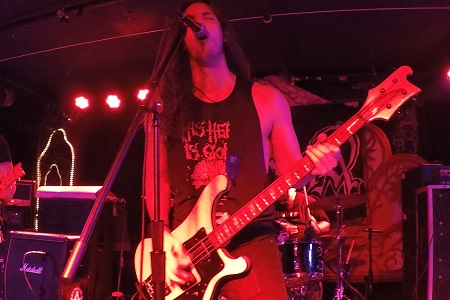 coagula © tuna
Our camera ran off just before
Phobia
's set so we unfortunately don't have any photos or videos of their show. So, these Californian grindcore veterans are rocking the scene from the 90's and this show was the first on their September tour all over the north-eastern part of the States. They released new album
Lifeless God
in June this year and it was their eleventh LP issue. In almost 45 minutes they played lot of songs from new album and they made the audience go really crazy! Their tour is ending on my birthday, 10th of September. They have some plans for the next year to come to play to Europe, can't wait to see them live again!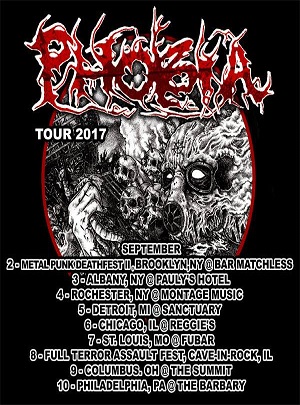 tour © phobia facebook photo
I saw awesome bands on the 2nd day of Metal Punk Death fest, and I'm more than happy for that. I think it would be even more funny if there were more people, but no matter that, It was one amazing night! Thank you!!!
lejapeja // 05/09/2017