Novi 80's Party će se održati u subotu 27. studenog s početkom u ponoć u zagrebačkom klubu Boogaloo gdje ćemo moći uživati u najboljim hitovima iz osamdesetih grupa poput Blondie, Ultravox, Human League, Soft Cell , Eurythmics, OMD, The Clash, Madness, Ramones, Billy Idol, Joy Division, Big Country, The Stranglers, The B 52's, XTC, The Cure, New Order, Depeche Mode, Tears For Fears, A-Ha, Alphaville, Dead Or Alive, Denis & Denis, Pet Shop Boys, Duran Duran, U2, The Smiths, Kim Wilde, Cindy Louper, Madonna, David Bowie, Public Image, Talking Heads, Ian Dury, The Specials, Siouxsie & Banshees, Gang Of Four, Gary Numan, Iggy Pop, Simple Minds, DAF, Boomtown Rats, EKV, The Police, Video Sex, Šarlo Akrobata, Električni Orgazam, Haustor, Prljavo Kazalište, Idoli, Film, The Sisters Of Mercy, The Cult, REM, Psihomodo Pop, Buzzcocks, Sex Pistols, Misfits, Alice Cooper, Van Halen, Queen, Guns'N Roses, Beastie Boys ,.....te novijim bendovima čija se glazba zasniva na utjecaju osamdesetih poput Placebo, No Doubt, Franz Ferdinand, Marilyn Manson, The Killers, Kaise Chiefs, London After Midnight, Editors,.....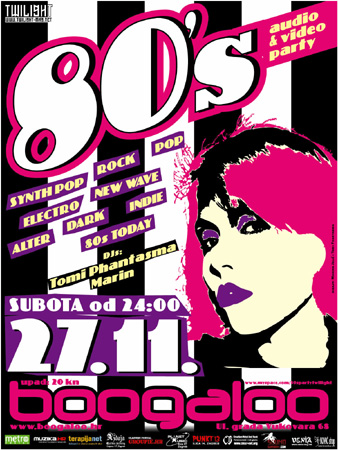 Program će započeti u ponoć
, a cijena ulaznice će biti 20 kn.
Boogaloo Club ima veliku terasu gdje se slobodno može pušiti!
Dobrodošli!
promo girl // 18/11/2010