U subotu 20. lipnja, nakon više od godinu dana se najveći alternativni party u Hrvatskoj, pa i šire, vraća u zagrebački klub Močvara. Da se prisjetimo, Twilight party podržava svu alternativnu scenu od old school gothica, dark rocka, death rocka, darkwave, ebma, electra, industriala do modernih alter pravaca poput future popa, gothic metala,…. Twilight party je tokom godina ugostio mnoge alter sastave i dj-eve iz cijelog svijeta pa tako i iz Japana i Amerike.
Ove subote će se Twilight održati na dva floora koja će biti podjeljena na electro floor na kojem će vrtjet poznati njemački dj DarkVoice, resident dj u poznatom kelnskom klubu Essigfabrik, te domaća Twilight resident djica Redlilly. Na drugom flooru će Tomi Phanatsma vrtjeti standarde dark, gothic, industrial scene.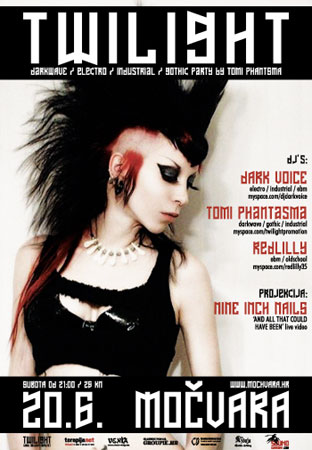 Kao uvod u večer prikazat će se projekcija jednog od najboljih alter bendova svih vremena Nine Inch Nails i njihov, vjerovatno jedan od najboljih live video radova pod nazivom "And All That Could Have Been".
Vrata se otvaraju u 21:00 sat a cijena ulaza je 30 Kn.
Twilight
darkwave/electro/industrial/gothic party by Tomi Phantasma
DJs:
DarkVoice
(Essigfabrik - Koln)
(electro /industrial / ebm)
Tomi Phantasma
(Twilight, 80's Party)
(darkwave / gothic / industrial)
Redlilly
(Twilight)
(ebm /oldshool)
Projekcija: Nine Inch Nails - ''And All That Could Have Been Live'' video
promo guy // 12/06/2009