Veliki revival osamdesetih se nastavlja sa jos jednim velikim partijem na dva floora, ovoga puta u Uskršnjem štihu, koji će se održati u petak 10. travnja, a predstavit će dva nova izdanja velikana osamdesetih, novi live DVD i CD punk rock legendi The Clash i novi best of album indie rock velikana The Smiths.
U velikoj dvorani će za vas vrtiti rezident DJ-i Marin, Tomi Phantasma i Schultz. Na programu će biti promocija novog duplog best of albuma The Sound Of The Smiths (Warner / Dancing Bear) londonskih indie legendi The Smiths, pa će tako na velikom platnu biti projekcija spotova grupa The Smiths dok će se audio pored The Smiths vrtjeti The best of 80's tj. najveći hitovi iz osamdesetih, poput Depeche Mode, Simple Minds, OMD, Soft Cell, New Order, Yazoo, Dead Or Alive, Eurythmics, Tears For Fears, Alphavile, A-Ha, Madonna, Kim Wilde, Lene Lovich, Cindy Louper, Denis & Denis, Frankie Goes To Hollywood, Pet Shop Boys, Video Sex, Ultravox, Soft Cell, Adam & The Ants, Billy Idol, David Bowie, Talking Heads, The Police, Blondie, Madness, Ramones, The Clash, ...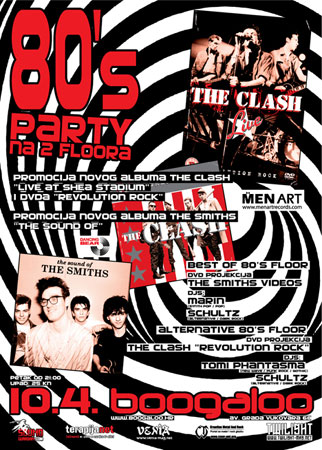 U drugoj dvorani, gdje će na programu biti alternativnija strana osamdesetih ce biti promocija novog live DVD-a Revolution Rock i albuma Live At Shea Stadium (Sony / Menart) punk rock legendi The Clash pa će tako na velikom platnu biti projekcija DVD-a Revolution Rock i spotova The Clash. DJ Tomi Phantasma će vrtjeti audio-video grupe Madness, 999, XTC, Anti Nowhere League, Ramones, Sex Pistols, Blondie, Buzzcocks, The Stranglers, The Vibrators, Iggy Pop, The Adicts, Misfits, Psihomodo Pop, Disciplina Kicme, Toyah, Lene Lovich, Jesus & The Mary Chain, Echo & The Bunnymen, The Smiths, Big Country, Pixies, Nick Cave, PIL, Front 242, Nietzer Ebb, DAF, Die Krupps, Laibach, Borghesia, Christian Death, Siouxsie, Joy Division, Bauhaus, Killing Joke, The Cure, The Sisters Of Mercy, The Cult, EKV, Gary Numan, ... i alternativnije pjesme Depeche Mode, Human League, Soft Cell, ...
U sklopu promocije novih albuma The Smiths i The Clash održati će se i nagradna igra na kojoj će vam diskografska kuća Dancing Bear pokloniti dva albuma The Sound Of The Smiths od The Smiths, a diskografska kuća Menart pokloniti dva albuma Live At Shea Stadium od The Clash!
THE BEST OF 80'S FLOOR:
Promocija novog best of albuma The Sound Of The Smiths - The Smiths
DVD projekcija The Smiths videos
DJs:
MARIN (sinthy pop, pop)
TOMI PHANTASMA (new wave)
SCHULTZ (sinthy pop / new wave / alter rock)
ALTERNATIVE 80'S FLOOR:
promocija novog live DVD-a Revolution Rock i albuma Live At Shea Stadium grupe The Clash
DVD projekcija Revolution Rock + videos
DJs:
TOMI PHANTASMA (new wave / punk rock )
SCHULTZ (alternative rock / dark rock / gothic rock)
Početak u 21:00 / Cijena ulaznice: 25 kn
promo guy // 31/03/2009