80's party prestavlja new wave scenu ove subote u zagrebačkom Boogaloou
Zbog velikog interesa publike se ljetna shema 80's Partya u zagrebačkom klubu Boogaloo produžuje svake subote kroz cijeli rujan, pa ćemo tako moći uživati u zvukovima i slici osamdesetih i ove subote kada je na programu predstavljanje "new wave" scene i prisjetiti se svih šašavih i otkačenih bendova i njihovih hitova koji su obilježili novovalnu scenu sa kraja sedamdesetih i kroz osamdesete.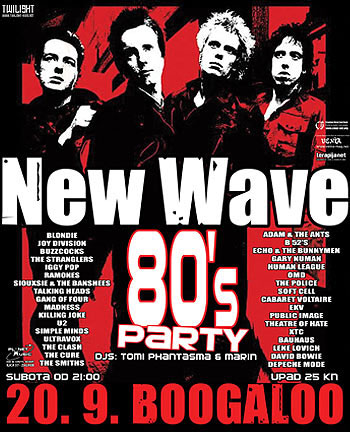 Tako ćemo moći čuti hitove grupa Blondie, XTC, Talking Heads, The Clash, The Stranglers, Madness, Toyah, Lene Lovich, Gang Of Four, The Smiths, Nina Hagen, Simple Minds, Ultravox, Devo, Buzzcocks, Killing Joke, U2, Adam & The Ants, The B52's, The Police, Soft Cell, Cabaret Voltaire, Iggy Pop, David Bowie, Depeche Mode, Joy Division, Bauhaus, Ramones, Siouxsie & The Banshees, The Cure, DAF, New Order, EKV, Big Country, Ian Dury, Gary Numan, Video Sex, Public Image,The Stone Roses, House Of Love, …..
Program počinje u 21:00 sat, a cijena ulaznice će biti 25 kn.
Dobrodošli!
promo guy // 14/09/2008