RASPORED BENDOVA PO DANIMA:
https://fest.sbam.rocks/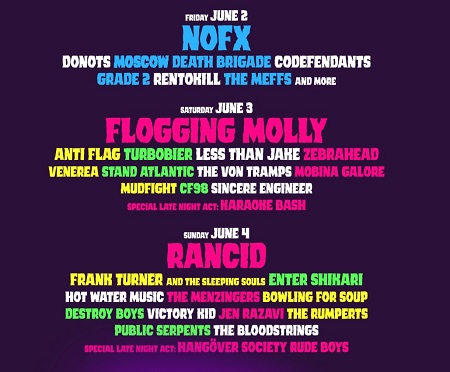 SATNICA MONSTER STAGEA I SIDE STAGEA:
https://fest.sbam.rocks/sbam-fest#timetable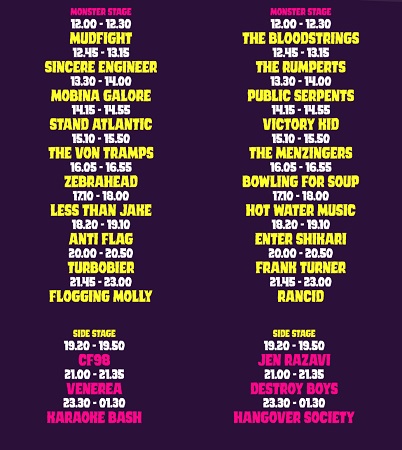 POPRATNE AKTIVNOSTI:
https://fest.sbam.rocks/sbam-fest#sideactions
Donosimo ih na engleskom, siguran sam da ga ovoliko svi razumijete:
Skateboarding x SBÄM Fest
Beside all these Punk Rock stuff we're also addicted to skateboarding and because of that - what a surprise - there will be (again) a
Mini-Ramp from IOU Ramps
at SBÄM Fest. The whole thing is gonna be moderated by
Chris Cab
, scene legend and Punk Rock lover.
Mr. Hofbauer, Michi Nadler, Karin Schweizer, Andi Tucek, Patrick Hofstätter
and many others will also join the party.
Of course you can also bring your board and skate along to
NOFX, Rancid, Flogging Molly...
This whole thing is presented to you by
Sparkasse OOE and supported by 5Boro
.
Drag King & Quings Wrestling!
Drag is for all genders and diverse - like Punk! We want to show
Dirt & Wrestling
besides
Glam & Queerness
. Because we love freedom and fun and want to show that to the audience! Drag is not always just 'on fleek' - it is also wild, playful, sexy, passionate and open to all classes & personal backgrounds. The show includes 3 numbers, where 2 performers each wrestle and perform against or with each other to a song in front of an audience. Physicality is shown with consensual kinkyness, authenticity and positivity. Away from the toxic concept of masculinity / femininity, capitalist beauty ideals and exploitation of queer identities.
- Big merch area
- Tattoo area
- Beer pong area
- and much more.
FACEBOOK EVENT:
http://www.facebook.com/events/1787055841652349
promo guy // 30/05/2023