U petak 28. veljače će se u zagrebačkom kultnom klubu Jabuka u sklopu programa (Welcome to the) Dark Side održati večer posvećena jednim od najutjecajnijih predstavnika dark scene, grupi Bauhaus. Bauhaus nemaju novi album i ne idu na turneju, no to njima to ni ne treba da bismo napravili večer posvećenu ovom bendu koji je napisao prvu gothic rock pjesmu posvećenu legendarnom, najpoznatijem glumcu lika "Drakule" Bela Lugosiju još davne 1979. Godine. Pjema "Bela Lugosi's Dead" je postala i ostala jedna od napoznatijih pjesmama, kako Bauhausa, tako i darkerske scene općenito. Bauhaus, s Joy Division i The Cure, dolaze s britanske post punk scene i tvore sveto trojstvo dark scene. Iako su Bauhaus kritičari na početku u svojim tekstovima zvali Bowiehaus iz današnje perspektive to može biti samo kompliment, ne samo zbog fantastične obrade Bowieovog "Ziggy Stardust"-a već i zbog odličnog vokala Peter Murphyja koji je doradio mračnu stranu Bowiea do savršenstva i zasigurno je jedan od najboljih pjevača darkerske scene, a i mnogo šire.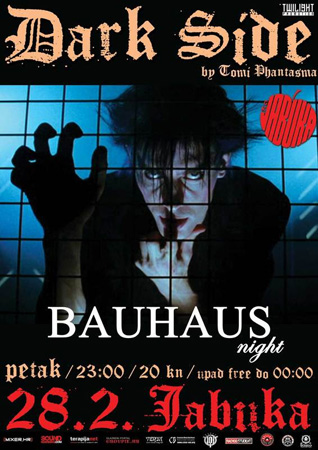 Večer će započeti u 23 sata i prvi dio večeri će biti povećen preslušavanju opusa Bauhausa sve do 01 sat iza ponoći, nakon čega slijedi nastavak Dark Side partyja gdje će Tomi Phantasma vrtiti sve mračne hitove iz osamdesetih, tj. hitova iz "stare Jabuke", pa tako i Joy Division, The Cure, Siouxsie & The Banshees, Einsturzende Neubauten, Red Lorry Yellow Lorry, The Cult, Christian Death, The Sisters Of Mercy, David Bowie, Iggy Pop, The Mission, Fields Of The Nephilim, Virgin Prunes, Mizar, EKV, Clan Of Xymox, Killing Joke, Cassandra Complex, Heroes Del Silencio, Echo & The Bunnymen, Pixies, Violent Femmes, Nick Cave, The Cramps, The Smiths, Depeche Mode, Ultravox, Simple Minds, Lene Lovich, Soft Cell, Laibach, DAF, Nitzer Ebb, Die Krupps, Front 242, Borghesia, Misfits, Ramones, The Damned,... sve do današnje glazbe koja slijedi taj zvuk, kao što su Nine Inch Nails, Covenant, White Lies, Marylin Manson, Editors, Hurts, Placebo, London After Midnight, Rammstein,...
Cijena ulaznice iznosi 20 kn, a ulaz besplatan & happy hour je od 23:00 do ponoći.
promo girl // 26/02/2014