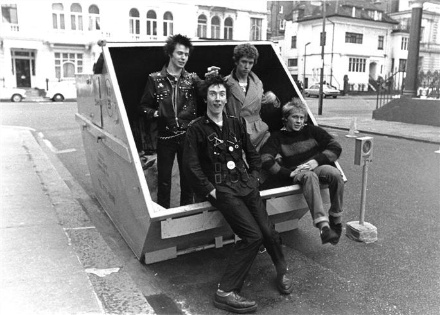 Sex Pistols, London, 1977 © Janette Beckman
Kratka uživo snimka ovog koncerta iz 1977. godine je do sada bila javnosti nepoznata. Na njoj Sex Pistols sviraju pjesmu Holidays In The Sun, četvrti singl s njihovog debitantskog albuma
Never Mind The Bollocks
.
'Nastup je snimljen samo s jednom kamerom i pokazuje kakav su kvalitet imali u datom vremenu. Odigralo je se sve u gradiću Penzance (Cornwall) u rujnu 1977. godine. Došli su nenanajavljeno i šokirana publika nije mogla vjerovati što im se to dešava, ali je bila hipnotozirana i oduševljena.' - Izjavio je povodom objave ove snimke Julien Temple, redatelj dokumentarca The Filth And The Fury o Sex Pistolsima.
Sada je Temple ovu snimku ukombinirao skupa sa prizorima iz posjete Sex Pistolsa Berlinu te iste godine. Te će se od 21. rujna moći
kupiti
u okviru jednog Super Deluxe Boxseta s imenom Never Mind the Bollocks (2012 Remastered).
terapija // 20/09/2012