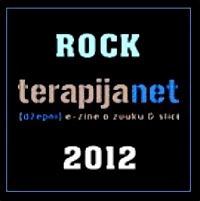 Poslušajte što se sve ove godine do sada radilo na internacionalnoj rock-sceni. Dvadeset odabranih singlova, puštenih na legalni free download. (Za preuzimanje kliknuti na željenu pjesmu)
Lee Ranaldo - "Off The Wall"
Japandroids - "The House That Heaven Built"
Jack White - "Blunderbuss"
OFF! - "King Kong Brigade"
Moonface - "Teary Eyes And Bloody Lips"
The Maccabees - "Pelican"
Alabama Shakes - "I Found You"
Cloud Nothings - "No Future/No Past"
Ceremony - "Hysteria"
A Place To Bury Strangers - "You Are The One"
Calexico - "Para"
Iggy Pop & Ginger Baker - "Lonely Boy" (The Black Keys Tribute)
Best Coast - "The Only Place"
Crippled Black Phoenix - "A Letter Concerning Dogheads"
Crocodiles - "Endless Flowers"
Skyline Pigeons - "Alright"
Giant Giant Sand - "Forever and a Day"
Great White Buffalo - "Russian Satellite"
Royal Headache - "Down the Lane"
Dirty Three - "Rising Below"
terapija // 19/06/2012