Samo dva dana nakon što će Mando Diao zasigurno dobro zagrijati zagrebački Boogaloo, još jedni šveđani dolaze u naši blizinu, ovoga puta u Graz i to u naš najdraži klub Orpheum!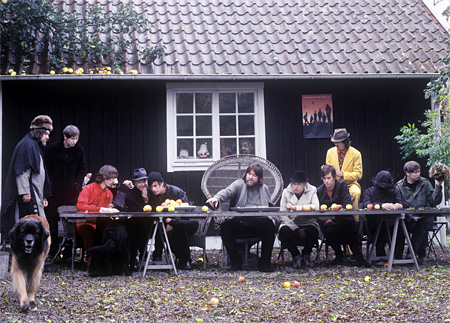 The Last Supper by The Soundtrack of Our Lives © Fredrik Wennerlund
The Soundtrack of Our Lives
iliti skraćeno
TSOOL
su još jedan u nizu sjevernjačkih bendova koji više ili manje osvajaju ostatak (toplije) Europe. Od njihovog početka u Gothenburgu je prošlo već 14 godina iza kojih je masu koncerata, glazbenih nagrada te šest hvaljenih albuma od koji je posljednji, naslova "Communion" izašao ove godine i kojeg promoviraju na ovoj turneji.
Možda najbolji opis je upravo na
njihovoj myspace stranici
koji kaže: "The greatest living, six-piece, space rock'n roll band in the history of the eardrum!". Ukusi su naravno subjektivni i ova izjava je možda malo pretjerana, ali reći ćemo i da na
allmusic portalu
svaki njihov album ima minimalnu ocjenu "vrlo dobar", što ipak nešto znači. Već sama činjenica da je posljednji album dupli, i to u doba kada se fokus ponovno vraća na singlove iliti pojedinačne pjesme (iTunes, melodije za mobitele i slično), se čini pomalo ludo, ali dosta dobro opisuje kako se TSOOL ne obaziru previše na to šta je in, a šta nije.
Svirajući rock'n'roll u maniru od Rolling Stonesa i The Doorsa, preko Pink Floyda do Oasis (s kojima su imali turneju po Americi 2002.-e godine), a na trenutke kao i The Beta Band ili Super Furry Animals, vjerujemo da će ovaj nastup uživo biti sjajno vizualno i glazbeno iskustvo. Odnosno,
kako to sami kažu
: "Don't miss it if you have the opportunity to see them live. It will probably save your life!"
The Soundtrack of Our Lives: Ego Delusion
sale // 16/11/2009