NEDJELJA 10.11.2019. I Karte: 70/90kn | Pretprodaja: VIB / Grif / DOS / Entrio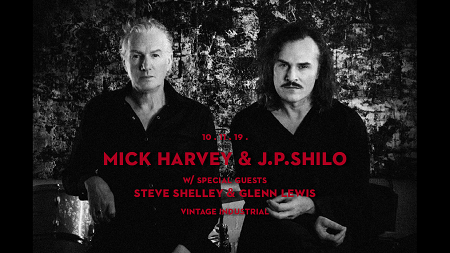 FB:
https://www.facebook.com/events/472981956606432/
Tko je Mick Harvey? Vrstan skladatelj, aranžer i glazbenik, jedan od pokretača kultnih Crime & The City Solution, te čovjek bez kojega bi opus Nicka Cavea od početka zvučao ovako beskrvno kao danas!
Mick Harvey, australski glazbenik i suosnivač Caveovih The Bad Seedsa i The Birthday Partyja po treći put dolazi u Zagreb u pratnji velikih Stevea Shelleya iz Sonic Youtha, J.P. Shila, i Glena Lewisa.
Nakon dva nastupa, hrvatska publika je uvidjela osebujnost svog glazbenog izričaja stvorenog izvan matičnog The Bad Seedsa koji je neminovno povezan s karijerom Nicka Cavea pa evo savršene zimske prilike poslušati i vidjeti ovu moćnu gomilicu.
Mick je također surađivao i s drugim značajnim imenima sa scene, kao što su Serge Gainsbourg i Jane Birkin, te P. J. Harvey i Ed Clayton-Jones, a istaknuo se i u pisanju glazbe za kazališne komade i filmove. Solo karijeru započeo je 1995. albumom "Intoxicated Man".
Detaljnij tekst o Micku by KLFM:
http://klfm.org/mick-harvey/
promo guy // 07/11/2019