The Melvins su svojom kombinacijom post punka i Black Sabbatha u drugoj polovici 80-ih bili jedni od glavnih začetnika grungea, a u devedesetima su imali svoje prste i u nastanku još jednog pravca, stoner rocka. Iako nisu stekli takvu popularnost kao bendovi koji upravo njima mogu zahvaliti što su to što jesu, poput Nirvane ili Pearl Jama, The Melvins imaju kultni status i mnogi bendovi ih navode kao svoje uzore. Legenda kaže da je Buzz Osborne, gitarist i pjevač Melvinsa, naučio Kurta Cobaina svirati gitaru, a upravo ih je Nirvana, kao svoje velike uzore, pozvala kao support na svoju posljednju svjetsku turneju.
Melvins su prošle godine izdali odličan album ''(A) Senile Animal'' koji je izašao za Ipecac Recordings, izdavačku kuću Mike Pattona, fontmena upokojenih Faith No More. Na tom albumu su udružili snage sa stoner/sludge metal bendom Big Business koji će i zasvirati s njima i u Zagrebu, kao zaseban bend, ali i kao dio Melvinsa. Naime Melvins sada sviraju u postavi s dva bubnjara, basom i gitarom, a posjetitelji ''Nightmare Before Christmas'' All Tomorrow's Parties festivala prošle godine, koji je kurirao Thurston Moore iz Sonic Youth, tvrde da je nastup Melvinsa bio jedan od vrhunaca festivala.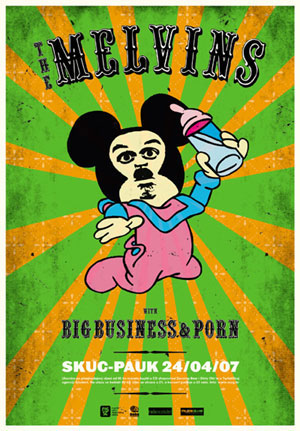 Uz Melvinse i Big Business zasvirat će i stoneri Porn (The Men Of) koji isto uključuju članove Melvinsa.
Ulaznice po pretprodajnoj cijeni od 65kn možete kupiti u Dancing Bearu (Gundulićeva 7), Turističkoj agenciji "Student" (Savska 25) i Dirty Old Shopu (Tratinska 33). Na ulazu će koštati 80kn. Koncert počinje u 22 sata jer isti dan u Kinu SC sviraju Howe Gelb & Voices of Praise Gospel Choir koji počinju u 20h, tako da možete stići na oboje.
ana // 15/04/2007
PS: Dan kasnije, u srijedu 25.4., The Melvins i dva prateća benda će nastupiti u Rijeci u Dvorani Stereo. Ovdje će upad biti 95 kuna, a pretprodaja je u Dallas Music Shopu (Rijeka) i Epidemiji (Pula). Vrata se otvaraju u 20h.