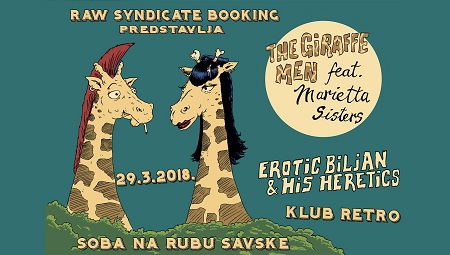 THE GIRAFFE MEN FEAT. MARIETTA'S SISTERS (NJEMAČKA)
Iz daleke savane Braunschweiga u Sobu na rubu Savske! dolazi divlja garage/punk/60's r'n'r horda The Giraffe Men feat. Marietta's Sisters.
Prljavi, sirovi, glasni i goli protresti će Retro svojim Psychobilly-Trash Rock'n'Roll zvukom poput stampeda žirafa, lavova, tigrova, hijena...
Na njihov zvuk utjecali su The Sonics,The Monsters,The Revelators i ostala škvadra, a ne sumnjamo da će podržani s virtuoznim Marietta's Sisters napraviti tulum za pamćenje u Sobi na rubu Savske!
https://www.facebook.com/giraffemenband/
EROTIC BILJAN & HIS HERETICS (ZAGREB)
Tko još ne zna ove majstore? Još malo i dečki obilježavaju 20 godina na sceni. Dvije dekade moćnih garažnih riffova i grmljavine, opakih melodija i sada već nebrojenih energičnih nastupa.
Izdali su 3 albuma, "Supersticky" ("Dancing Bear", 2006.), "H is for Heretics" ("Dancing Bear", 2010.) i "Devil stole my record" ("Dancing Bear/Dirty Old Label, 2016.) koji je izašao i na vinilu, dok su se njihove stvari našle na bezbroj kompilacija diljem Europe.
Podijelili su stage s bendovima poput DKT / MC5 (USA), Queens of the stone age (USA), Supersuckers (USA), The Cynics (USA), The Morlocks (USA), The Nomads (SWE), Juliete and the Licks (USA), Kings Of Nuthin (USA), Fuzztones (USA), Meteors (GB), Horrorpops (DK) i mnogi drugi.
https://www.facebook.com/eroticbiljanandhisheretics/?fref=ts
SOBA NA RUBU SAVSKE je program pokrenut suradnjom Raw Syndicate Booking i Retro cafe & night bar.
UPAD POŽELJNA DONACIJA 30 KN (SREDSTVA PRIKUPLJENA DONACIJAMA NAMIJENJENA SU GLAZBENICIMA)
promo girl // 27/03/2018