U petak 16.prosinca će se nastavlja niz "100% Novi Val" partija u zagrebačkom klubu Jabuka pod okriljem Tomija Phantasme uz dj gosta Sahu The Culta. Osamdesete i novi val tj new wave su opet "in", a Jabuka nikada nije ni izašla iz osamdesetih, zato dođite u Jabuku gdje ćemo vas glazbenim vremeplovom provozati kroz zlatne osamdesete. A tko to može bolje nego Tomi Phantasma koji je i sam proživio novi val!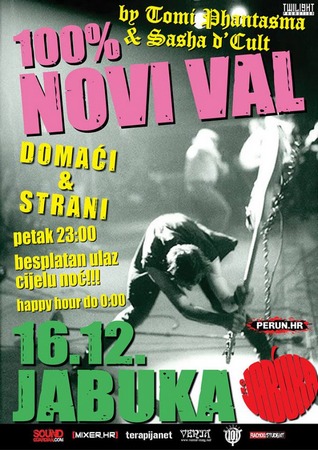 Na programu će biti pravi novi val kakav je stvarno bio, od punk i post punk scene s kraja sedamdesetih, preko novog vala, power i sinth popa i dark rocka iz osamdesetih.
Kako se novi val događao istodobno i u svijetu, tj. Velikoj Britaniji i kod nas, mnogi su se bendovi i stilovi ispreplitali pa se tako nećemo ograničavati na granice već na glazbu koja se u to vrijeme slušala i koja je do današnjih dana ostala prisutna na sceni, a u posljednje vrijeme ponovno došla u centar zbivanja. Na repertoaru će znači biti Iggy Pop, Sex Pistols, Ramones, The Clash, the Stranglers, The Damned, The Vibrators, Buzzcocks, Dead Kennedys, The Cramps, 999, Devo, Buldožer, Pankrti, Paraf, Prljavo Kazalište, Pekinška Patka, Termiti, Azra, Lačni Franz, Public Image, Blondie, Lene Lovich, Police, Gang Of Four, Magazine, Fisher Z, The Jam, Toyah, The B 52's, Pretenders, Patti Smith, Killing Joke, Siouxsie & The Banshees, Madness, The Specials, Talking Heads, Ian Dury, Gary Numan, XTC, Yello, Adam & The Ants, DAF, U2, Simple Minds, Human League, Ultravox, OMD, Depeche Mode, Haustor, Idoli, Električni Orgazam, Šarlo Akrobata, U Škripcu, Film, Laki Pingvini, Disciplina Kičme, EKV, Partibrejkers, KUD Idijoti, David Bowie, Billy Idol, Pixies, The Smiths, Jesus & Mary Chain, REM, Midnight Oil, Joy Division, Bauhaus, The Cure, Laibach, Mizar, Video Sex, Xenia, Denis & Denis,.... pa sve do novijih bendova koji sviraju zvuk osamdesetih, poput Placebo, Editors, Franz Ferdinand, Jets, Arctic Monkeys, Muse, Mondo Diao, Kawasaki 3P, Hladno Pivo,.....
Program počinje u 23 sata i ulaz je besplatan cijelu noć dok je happy hour do ponoći. Dobrodošli!
MH Concerts & Twilight Promotion najavljuju:
21.01. Let's dance with DAVID BOWIE - tribute by THE GIFT - Boogaloo, Zagreb
09.02. 2017. THE DOORS ALIVE - Cvetličarna, Ljubljana
10.02. 2017. THE DOORS ALIVE - Tvornica Kulture, Zagreb
11.02. 2017. THE DOORS ALIVE - Dom Omladine, Beograd
12.02.2017. DEVIN TOWNSEND PROJECT + BETWEEN THE BURIED AND ME + LEPROUS - Tvornica Kulture, Zagreb
13.03.2017. SABATON + ACCEPT + TWILIGHT FORCE - Dom Sportova, Zagreb
23.03.2017. CHILDREN OF BODOM - Tvornica Kulture, Zagreb
09.04.2017. MAYHEM - Vintage Industrial Bar, Zagreb
10.04.2017. MAYHEM - Dom Omladine, Beograd
promo girl // 14/12/2016