DOOMTOWN predstavlja:
DAWN OF HUMANS (NYC)
Nakon prošlogodišnjeg koncerta Hank Wood & The Hammerheadsa koji su mnogi proglasili za jedan od najboljih koncerata 2014. godine, u goste nam dolaze još jedni članovi stabla njujorške Toxic State records familije - mutant panksi Dawn Of Humans.
Dawn Of Humans krljaju unikatan, minimalistički, te povremeno kaotičan punk prožet potpuno poremećenim vokalima simpatičnog Emila kojeg smo imali prilike vidjeti u ulozi drugog bubnjara u već spomenutim Hank Wood & The Hammerheads. Valjalo bi spomenuti da su članovi Dawn of Humansa aktivni i u bendovima poput Crazy Spirit, Warthog, Murderer, Black Boot, Perdition i moru drugih bendova i samostalnih projekata.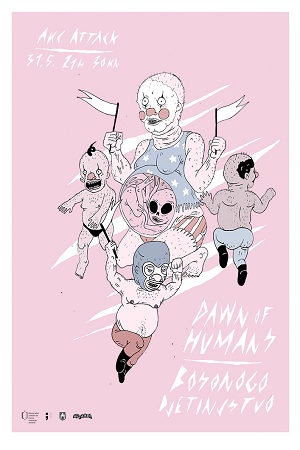 dawn of humans
Uvjereni smo da bi Gremlini, kad bi se latili sviranja i formiranja punk benda, zvučali upravo kao DOH jer uz svo to silno cviljenje, režanje, skvičanje, grgljanje, sulude galopirajuće ritmove i jezovite riffove zaista je teško zamisliti da ovako nešto stvaraju ljudska bića.
DOH uživo redovito priređuju auditivno-vizualni cirkus pun iznenađenja, a što su nam pripremili za gig u Agramu provjerite sami.
Burst Of The Birdfish 7" (2012)
https://www.youtube.com/watch?v=Eqnt0aeBtVY
Slurping At The Cosmos Spine 12" (2015)
https://lavidaesunmus.bandcamp.com/album/slurping-at-the-cosmos-spine-lp
BOSONOGO DJETINJSTVO (ZD)
Seapunxi se vraćaju na mjesto zločina po drugi put ove godine. Ovog puta odsvirat će nekolicinu novih stvari koje će tamo negdje na jesen, taman prije druge ovogodišnje europske turneje, završiti na singlici za Doomtown Records.
split LP sa Bastinados (2013)
https://bosonogodjetinjstvo.bandcamp.com/
fb event: https://www.facebook.com/events/1570873019842853/
Vrata 21:00, Start 21:30, Upad 30 kn
promo girl // 28/05/2015