BATTLEFIELD OF NOISE NO. 5
www.facebook.com/battlefieldofnoise
EAT YOUR BRAINS (Zagreb)
www.myspace.com/eatyourbrainsheavy
METALIKA (Zagreb)
DJ ZMAJ (Zagreb)
DJ OZ (Zagreb)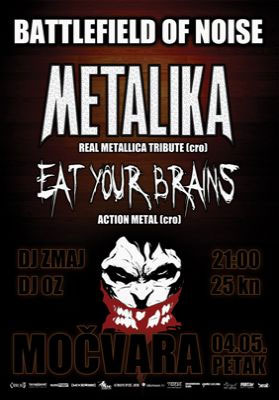 U sklopu Battlefield Of Noise programa, ovog puta nastupaju Eat Your Brains i Metalika.
Metalika je side project svima dobro poznate zagrebačke skupine Inciter u čije je stvaralaštvo duboko utkan DNK planetarno poznate Metallice. Skoro je prošlo desetljeće otkad ih nismo čuli kako sviraju kao cover band pa je ovo sigurno dobra prilika da se prisjetimo dobrih starih vremena te uzduž i popreko prođemo kroz hitove najvećeg metal benda na svijetu. METAL UP YOUR ASS!!!
Ispravak netočnog navoda; Iron Maiden je najveći metal bend na svijetu! Nakon brojnih odrađenih motorijada i odsviranih R.J. Dio obrada, velike polugodišnje turneje po Indiji, Eat Your Brains se vraća u Hrvatsku samo radi ovog koncerta. Specijalni gost večeri: Riku Hakuonen na bubnjevima! Bubnjar finskog benda Special Needs, dovoljno jak da zdrobi stijenu, a opet dovoljno nježan da zdrobi leptira! Ne propustite ovaj show!
Ostatak večeri uživajte u dobro znanim zvukovima omiljenih vam bendova, poput AC/DC, Iron Maiden, Motorhead, Disturbed, Pantera, Skindred, Metallica, Slipknot, Static-X, Antrax, Judas Priest, System Of A Down, KoRn, Accept, Alien Ant Farm, Black Sabbath, Godsmack, Slayer, Sepultura, RATM, Ill Nino, Saxon, Stone Sour, Limp Bizkit, Scars on Broadway, Steppenwolf, Body Count, Ministry, Manowar… by DJ Zmaj i DJ Oz.
Motori! Žene! Spektakl!
promo guy // 01/05/2012