Škotski odgovor na ARCADE FIRE već je s prvim albumom poletio dosta visoko, a s drugim, onim teškim, poletio je još više i više. Naime rijetki su bendovi koji u nešto malo više od godine dana mogu objaviti ovako dva snažna albuma s toliko pjesama o kojima bi se moglo pričati. I dok su se na prošlogodišnjem debiju "Until The Earth Begins To Part", još tu i tamo tražili, na "Let Me Come Home", došli su doma, u pravom smislu riječi.
Ova šestorka osim po instrumentariju kojim se služi na stejdžu i u studiju (gitara, bas, bubanj, violina, harmonika, klavir, violončelo, truba) i vokalom Jamie-a Sutherlanda neodoljivo podsjeća na spomenute kanađane, i time proširuje listu njihovih sljedbenika. No, kao i svaki dosad, i BROKEN RECORDS daju svoj neki štih, pa se u njihovim pjesmama naziru keltski korijeni, koji opet daju novu dimenziju.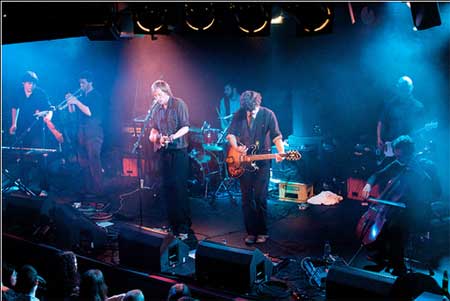 http://brokenrecordsband.com/gallery/
Bogatiji i složeniji aranžmani čuju se već pri otvaranju albuma (A Leaving Song), da bi na sljedećoj Modern Worksong, buknuli i održali se na toj razini sve do kraja albuma. Muško ženski duet na Dia Dos Namorados! malo smiruje situaciju i u pogrebnom štimungu s "Bury me beneath the tides, in the shallow surf, in the filth and grime" uvodi nas u najbolji dio ove ploče. The Motorcycle Boy Reigns, A Darkness Rises Up i You Know You're Dead najrokerskije su pjesme, i na najbolji mogući način udaljuju Broken Records od zvuka Arcade Fire, a nadam se da će im to biti i linija vodilja u daljnjem radu.
Sa The Cracks In The Wall opet evociraju svoje keltske korijene i smiruju situaciju za lagani povratak kući (Home) i kraj ovog albuma, koji je ne samo dostojan primjerak 4AD etikete, već i ozbiljan kandidat u izborima za najbolje ovogodišnje albume.
ocjena albuma [1-10]: 9

pedja // 09/11/2010