Još jedan "proizvod" švedske melodične škole dolazi nam iz glavnog grada, a svojim drugim izdanjem, izrazili su želju za probitkom na širu, međunarodnu, glazbeni scenu. Iako je teško očekivati da će polučiti veću slavu od ABBA-e ili THE CARDIGANS, SAD DAY FOR PUPPETS mogli bi uhvatiti svoj dio kolača.
SDFP su Anna Eklund (vokali), Martin Källholm i Marcus Sandgren (gitare), Micael Back (bubnjevi) i Alex Svenson-Metés (bas), a mješavina stilova kroz koju nas vode u svojim pjesmama mogla bi se nazvati indie-pop s dozom shoe-gaze-a.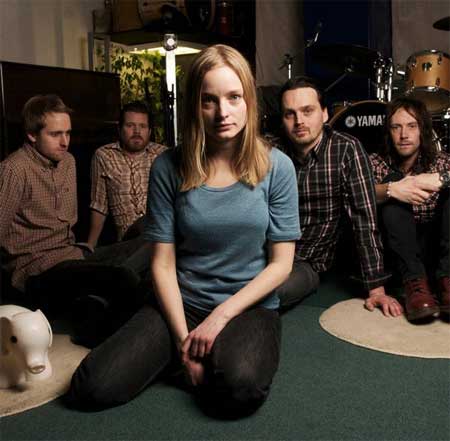 sad days for puppets © SDFP, London Feb 09, photo by Lucy Johnston Read
Novi album sniman je tijekom hladne zime u Stockholmu, tek nešto više od godine dana nakon njihovog debi albuma "Unknown Colors", koji se osim po naslovu, razlikuje od ovog albuma i po malo mračnijim i žešćim notama. Članovi benda kažu da im je turneja s A PLACE TO BURY STRANGERS jako godila, a vjerojatno je i to jedan od rezultata.
Iako se na prvoj pjesmi Sorrow, Sorrow to ne osjeća, jer je nježnom vokalu Anne dodan još nježniji vokal njene sestre Annike pa je sve to pretvoreno u glazbeno milozvučje dostojno otvorenja albuma. No već pri kraju ove pjesme vokalno milozvučje prelazi u gitarističko milozvučje koje se pretapa u najbolji početak pjesme koju J Mascis nije nikad napisao. Radi se o Such a Waste, koja nam otvara novi svijet benda.
Eterične čari s prethodnika velikom brzinom su se izmiješale s glomaznim gitarama iznad kojih se poneka uspije probiti lebdeći vokal Anne Eklund. Anna inače, samo za moguću usporedbu u svojim pjevnim varijacijama lebdi negdje između Miki Berenyi (LUSH) i Alison Shaw (CRANES), a svoju najveću predivnoću postiže u Anne Says Pt. II, koja je u stvari našpanana i nabrijana istoimena pjesma s njihovog prvog EP-a "Just Like a Ghost". Da vladaju tematikom i u mirnijim temama pokazali su u baladi Beads i u mračnoj varijaciji na omot albuma Monster and the Beast, s kojima su malo usporili i smirili tenzije na albumu, a da bi onda opet tek s posljednjom Tingle in My Hand mirno okončali ovih četrdeset manje tri minute fuzzy gitara, predivnih vokala i ugodnih melodija.
Sad Day for Puppets "Last night"
ocjena albuma [1-10]: 8

pedja // 15/10/2010