Za Gabby Young započeo je novi život, kada je s navršenih 22 godine preboljela rak grla! Da Gabby nije pjevačica po profesiji, to i ne bi za ovu priču bilo toliko značajno. Dijagnoza se dogodila taman pri snimanju njenog drugog solo albuma "Mole" (2006). Danas, tri godine kasnije, Gabby je opet na stejdžu, ima šestero stalnih "drugih životinja" i nekoliko povremenih "drugih životinja" koji je prate a s njom zajedno su snimili i album vrijedan spomena.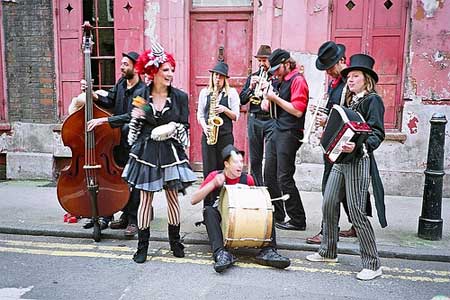 Gabby Young & Other Animals
Veselo, lepršavo i kabaretski riječi su koje najbolje opisuju muziku koja je dio albuma. Kad slušam Ladies of the Lake, osjećam se ko da sam dio šarene animirane cirkuske povorke u kojoj svaki instrument opisuje jednu životinju počevši od miša završivši sa slonovima, a Gabby u velikoj otvorenoj školjki i pjeva. U Ones that Got Away su u velikom verijeteu u predgrađu Pariza na kraju šezdesetih a članovi ansambla trude se zabaviti publiku na sve načine.
Ljepotu naslovne pjesme We're All in this Together nemoguće je opisati riječima. To je jedna od pjesama koja se može slušati danima, mjesecima, godinama da ne postane dosadna. A text "We know that you never wanted to hurt her. We know you had another plan…" govori sam za sebe. Ovih godina je nešto ljepše otpjevala samo Sara Lov u pjesmi
New York
.
Gabby Young and Other Animals - "We're All in This Together"
Šteta je što cijeli album ne uspijeva održati ovaj nivo pjesama, tako da u Lipsink cijela atmosfera pada i skoro zapada u monotoniju, srećom…
… tu je Whose House, u kojoj se vrtimo na ringišpilu na velikom velikom "ciganskom vašaru". Ask you a Question se pretvara u ženski Gogol Bordello s dijelom Kalinke ubačenim usred pjesme a osjećaj užarene male sobe u sovhozu u kojoj su pomiješani mirisi radničkog znoja i jeftine votke koja se toči na hektolitre teško izlazi iz nosnica još neko vrijeme.
Radi lakšeg predočavanja cjelokupne situacije na albumu dostavljamo Vam i popis svih instrumenata korištenih tijekom snimanja: gitara, bendžo, mandolina, klavir, "čelični bubnjevi" (steel drums), melodika, cajon, djembe, bas, harmonika, klaivjature, truba, klarinet, trombon, tuba, viola, čelo, violina, konge i razne druge udaraljke… Sve jasno, jel!?
ocjena albuma [1-10]: 8

pedja // 16/12/2009
PS: Gabby Young slušat će ROmano Vidović.