U vrijeme opće globalizacije, ozbiljnih klimatskih promjena, gubljenja stvarnih vrijednosti, socijalne neosjetljivosti i sveopćeg trčanja za novcima, glazbena industrija doživljava vrlo sličnu sudbinu. Pa smo tako svjedoci preproduciranja, pretvaranja, lažne humanitarnosti, odrađenih koncerata i grandioznih pozornica da se prikrije stvaralački mediokritet. U toj, ne baš veseloj, projekciji stvarnosti nabasati na nešto dijametralno suprotno prava je rijetkost. Ali i pojava koja će biti sve učestalija kao devijantni odgovor na sve ono što nas okružuje, a s čime nikako ne možemo biti zadovoljni.
Low Anthem - "Oh My God, Charlie Darwin" jedna je od tih "rijetkih životinja" koja nam svojom neoskrnavljenom čistoćom glazbe donosi istinski melem na ranu koji ne bi trebalo nikako propustiti. Njihova angažiranost, posebno u uvodnoj "Charlie Darwin" gdje upozoravaju koliko smo daleko "evoluirali" od istinskih principa življenja ("And who could heed the words of Charlie Darwin / Fighting for a system built to fail") u savršenoj je simbiozi sa jednostavnom i prirodnom glazbenom strukturom kojom kao da daju odgovor na sva pitanja iz uvodne rečenice ove recenzije. A on je tako jednostavan: stati na loptu, razmisliti o, toliko zaboravljenim i zanemarenim, istinskim vrijednostima i vratiti se iskonu.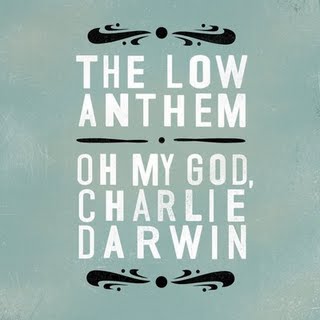 THE LOW ANTHEM - oh my god, charlie darwin
Dakako, nisu sve pjesme angažirane, pa je već slijedeća "To Ohio" predivna gospel mantra o izgubljenoj ljubavi, a slijede je dvije brže nostalgične delta blues country rock poskočice "The Horizon Is Beltway" i "Home I'll Never Be" koje zvuče kao produkt nekog obiteljskog farmerskog blues rock banda koji se pri zalasku sunca na taj način odmara od napornog cjelodnevnog rada. Optimistična "(Don't) Tremble" zvuči kao zaboravljeni hit rane faze Bob Dylana, sa sjajnom usnom harmonikom i prelijepim tekstom. "Music Box" je baš to, glazbena kutijica sa trenutnim efektom povratka u djetinjstvo. Slijedi još jedna socijalno-angažirana "Champion Angel", a onda vjerojatno najljepša (opet) angažirana "Cage The Songbird" koja će svojim sjajnim tekstom i jednako lijepom melodijom omekšati i najtvrđa srca.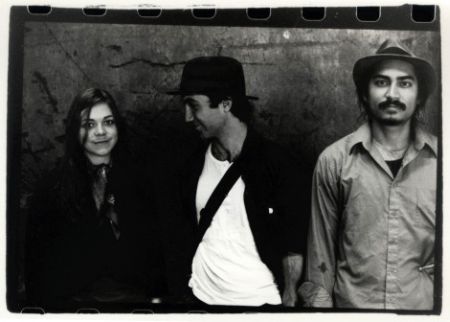 THE LOW ANTHEM
Vrlo je teško govoriti o glazbenim uzorima banda, jer ma koliko retro i namjerno zastarjelo zvučali, opet su dovoljno jedinstveni i prepoznatljivi, a pjesme sežu od Nick Drakea, Bob Dylana, Crosby, Stills, Nash & Young, Tom Waitsa preko Willard Grant Conspiracy do Sufjan Stevensa, Fleet Foxes ili pak Bon Iver. Smatrali ih dovoljno originalnima ili ne, jedno je sigurno: Ben Knox Miller, Jeff Prystowsky i Jocie Adams (članovi banda, sve redom multiinstrumentalisti) napravili su ozbiljnog konkurenta za album godine. A ja im osobno držim fige da tako bude i izvan "terapije".
"Oh My God, Charlie Darwin" inteligentan je uradak koji, ukoliko mu dopustite da vam se približi, kao rijetko koji potiče na razmišljanje. Tekstovi su toliko dobri da bi ih trebalo prevesti na sve svjetske jezike i besplatno dijeliti ljudima kako bi se postigla kolektivna svijest. S druge strane iskonska i svjesno produkcijski ogoljena glazba nudi rješenje, a ono je toliko jednostavno da ga svatko može doseći sjedeći negdje na klupi pred kućnim pragom, oslobođen svih loših misli, s pogledom usmjerenim ka zvijezdama.
THE LOW ANTHEM - (Don't) Tremble
THE LOW ANTHEM - (Don't) Tremble
If yor pilot light should die
Do not quake and do not bark
You will find the spark
If your tree should bare no fruit
Do not worry do not spill
You are beautiful
If your clarinet should break
Do not cry a million lakes
Do not cry a million lakes
If the winds surround your house
Do not turn and twist about
Just wait it out
If your hand should lose it's grip
Do not tremble do not sweat
For where then would you get
Where then would you get
Where then would you get
Where then would you get
You have got the looks my dear
To make a mountain shake
Imagine me
You have got the voice my love
To melt a lake of ice
Imagine me
If your heart is unemployed
Do not rush but do not stall
'Cause I've been waiting
I've been waiting
THE LOW ANTHEM - To Ohio
I left Louisiana on the rail line, oo oo
I left Louisiana on the rail line, oo oo
Lost my love before her time, oo oo
Lost my love before her time, oo oo
On the way to Ohio
On the way to Ohio
Now every new love is just a shadow, oo oo
Every new love is just a shadow, oo oo
Once you've known love you don't know how to find love, oo oo
Yeah once you've found love you don't know how to find new love
All the way to Ohio
All the way to Ohio
Heard her voice come through the pines in Ohio
I heard her voice singing in the pines in Ohio
She sang bless your soul you crossed that line to Ohio
Bless your soul you crossed that line to Ohio
All the way to Ohio
All the way to Ohio
ocjena albuma [1-10]: 10

danko // 20/08/2009