Obstacle 2 su mladi slovenski indie-rock kvartet iz Celja koji ne samo što se nazvao po čuvenom singlu "Obstacle" Interpol sa albuma "Turn On The Bright Lights" (2003), već tako i pokušava zvučati, a to im i djelomično polazi za rukom. Oni su Janoš Pečnik (vokal, gitara, klavijature), Lovro Kramer (gitara), Jure Repar (bas) i Jure Lajar (bubnjevi). Nedavno su gostovali u Zagrebu (19.V 2009) gdje su u Spunku svirali sa zagrebačkim bliskim bandom Nerd Smile. Za svoje utjecaje tvrde da su najzazlužniji The Smiths, The Fall, The Cure, Pixies, Sonic Youth, MBV..., no ovaj EP (ili mini album) sa 5 pjesama u trajanju od 23 minute nedvojbeno asocira i priziva zvuk vlasnika singla Obstacle.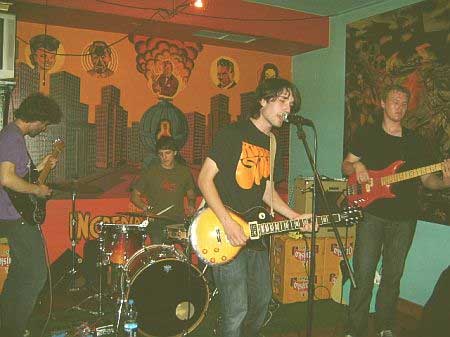 obstacle 2 @ spunk © horvi
Janoš u vokalnom pogledu odudara jedino po boji, dok je letargija izvedbe i nivo njegovih glasovnih 'new shoegaze' harmonija otprilike 'tu negdje', mada nesvjesno zvuči na onaj poznati glas frontmena Comsat Angels iz druge polovice '80-tih s kojima se mogu povezati i neke bliske melodijske pop paralele (osobito u skladbi "Did you see me walking"). Pjesme odišu finom indie atmosferom, te se po tome mogu razdvojiti na rock komade (uvodna "Oh, you used to be" i spomenuta "Did you see walking") i pop linijama prošarane brojeve ("The secret routine", lagane "Allies" i završna "Godspeed"). Premda je ovo šturo i suhoparno žurnalističko razdvajanje, pjesme im imaju vrlo suptilne i bogate aranžmane sa ukusno odabranim bojama gitara koje se cijelim tijekom materijala isprepliču u brojnim nijansama u odnosu na tempove koji su vrlo homogeno sastavljeni od plesnih i relativno umjerenih taktova. Zvuk je na vrlo visokom nivou, te bez znanja da se radi o bandu iz Slovenije, čisto lako se može steći dojam da je riječ o još jednom novom britanskom indie-rock/pop sastavu, a najveće zasluge za to ima Jon Astley iz Twickenhama (Engleska) koji je masterirao ovaj rad snimljen u Studiju Peer u slovenskom Žalecu.
Za početak diskografske karijere ovog četverca, ovo je više nego dobar materijal koji pruža mnoštvo skrivenih detalja kuda bi 'druga prepreka' mogla otići na svojem cjelovitom dugosvirajućem radu.
ocjena albuma [1-10]: 7

horvi // 17/07/2009