The Broken Beats su mi uz Decoration najdrazi mali band, i s njima prozivljavam istu pricu kao s Decoration. Jednostavno ne kuzim zasto ih tako malo ljudi slusa. Da usporedim, Pips Chips & Videoclips po last.fm-u slusa tocno 5 puta vise ljudi iako su The Broken Beats iz Danske i cijeli svoj radni vijek pjevaju na engleskom, svirali su na Roskildeu par puta itd itd. Anyway za one koji ne znaju, Kim i njegova ekipa sviraju predivni indie rock koji miksa recimo Blur, Cineramu, Pavement plus recimo Muse sa orkestracijama i Divine Comedy teatralnost. Uglavnom, poprilicno originalna i cudna kombinacija koja savrseno funkcionira.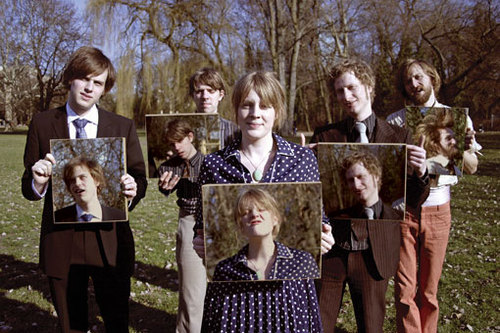 The Broken Beats
Novi album koji se krije iza blesavog imena "You're Beautiful, Powerfull and Extraordinary" logicno nastavlja zapoceto na prijasnjim albumima. Kim je majstor melodije i totalno razvaljuje kao i inace. Posebno su dobri prvi single "The Rules", sjetna "All The Diamonds in Rio" i neobicna "Easily". Na kraju se samo nadam da ce s "You're Beautiful, Powerfull and Extraordinary" The Broken Beats imati vise uspjeha nego s prijasnjim albumima jer oni to definitivno zasluzuju.
U meduvremenu pogledajte spot za "The Rules" i poslusajte jos par pjesama kroz nase buduce podcaste.
The Broken Beats - Essentials
ocjena albuma [1-10]: 9

kris // 06/03/2009