Kao što vrijeme u godini nalaže, opasno se krenulo s božićnim pjesmama, albumima i ostalim što bi moglo izmusti i zadnje pare od potencijalnih kupaca takvih "goodiesa". Tom trendu priklonili su se i škotski GLASVEGAS, ovogodišnje naj-hype ime iz tog dijela Velike Britanije.
Kao što i samo ime benda kaže, ovaj je četverac iz tmurnog Glasgowa s mislima na blještavilo Las Vegasa. Pod budnom palicom Alana McGee-a, takva je i muzika koju isporučuju. Kombinacija teških ritmova njihovih sunarodnjaka JESUS & MARY CHAIN s lepršavim melodijama Phila Spectora.
Ovogodišnji im je debi album bio podržan s odličnim singlovima "Geraldine" i "It's My Own Cheating Heart That Makes Me Cry" koje pjevaju o tužnim ljubavima, "Daddy's Gone", o kompliciranom odnosu oca i sina, dok "Flowers and Football Tops" priča o navijačkim neredima i bespotrebnim smrtima mladih ljudi.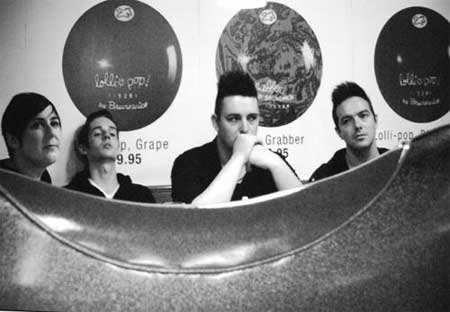 glasvegas © sonia grace
Početkom ovog mjeseca objavili su i prošireno izdanje istog s dodatnim EP-om s njihovim viđenjem nekih tradicionalnih božićnih napjeva, odnosno njihovih vlastitih. Zanimljivost ovog EP-a je da je u potpunosti snimljen u Transilvaniji, a u pjesmi Silent Night (Noapte de vis), koja je otpjevana na engleskom i rumunjskom, pjevao je zbor iz crkve Svetog Nikole iz Brasova.
Ostatak pjesama biti će odličan soundtrack za one koji se groze božićnih Mariah Carey i Michael Bolton hitova koji nas bombardiraju s radio stanica, a Fuck You, It's Over ulazi u uži izbor onih rijetko slušljivih božićnih pjesama kao što je Fairytale of New York, na koje ruka sama ne prebacuje radio stanicu, no zbog svojeg se naziva nikad neće niti naći u tom društvu. S druge strane, A Snowflake Fell (And It Felt Like A Kiss), kroz koju godinu bi vrlo lako mogla bivati uvrštena u x-mas kompilacije diljem svijeta.
ocjena albuma [1-10]: 8

pedja // 08/12/2008