Analena
, naziv koji zapravo potječe od stare antičke riječi, a prevodi se kao "like/by the fire".
Ovaj band osnovan je "davne" 1997 g. u Zagrebu, i kroz svojih 7 godina postojanja Analena je postala pojam za kvalitetnu emo-core muziku, što dokazuje njihova uvježbanost i kvaliteta autorskog rada banda, a to im ne otežava ni činjenica da članovi banda nisu samo iz Hrvatske nego i iz Slovenije.
Ali uspjeh ne dolazi sam po sebi Ana, Mijo, Six, Miran i Zet naporno su radili od samih početaka i svirali u svim krajevima Hrvatske, a također su imali i nekolicinu turneja po Europi. Oduvijek su podupirali lokalnu scenu, a svojom dugotrajnim postojanjem kao banda postali su uzor mnogim mladim bandovima koji su nicali na lokalnoj i stranoj underground sceni.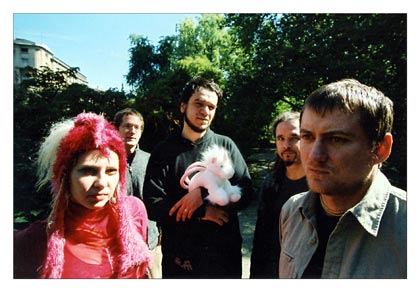 Analena © Kichmar
Prvo svoje autorsko djelo izdali su 2000 g. pod nazivom
"ARHYTHMETICS"
za Get Off Records, potom 2001.g. izdali split album sa Beogradskom grupom
Unison
također za Get Off Records.
2002.g. izdaju split album sa Austrijskom grupom Sensual Love pod nazivom
"IT'S NEVER TOO LATE TO SPLIT UP"
koji su izdali u suradnji sa Get Off Records i Interstellar Records., da bi ovih dana trebao izaći njihov drugi samostalni album
"Carbon Based"
, snimljen i produciran u Kozmo studiu u Zagrebu od samih članova banda, a pripomogli su im i članovi Zagrebačkog instrumental banda
Lunar
, čiji je Mijo i sam član. Album će biti izdan pod izdavaštvom Mr.Moonleea i njegovog Moonlee Recordsa, a narednih dana pod tom etiketom bi još trebali izaći novi album Lunara i Zagrebačkog instrumental post-rock banda Don't Mess With Texas. Više informacija o Moonlee Records, Mr.Moonleeu i njegovoj "djeci", kako on naziva svoje bandove možete saznati na
www.moonleerecords.com
. Na novom albumu se nalazi 10 genijalnih emo pjesama, mislim da je album u cjelini malo melodičnije nego ostali albumi, ali ne nedostaje Aninog vrištanja… trebali su je malo rasrditi prije snimanja da se razvrišti:-)…
Ritmične pjesme, ukomponirane odličnim izmjenama pjevačkih i instrumental dijelova sa iskrenim i maštovitim tekstovima u analeninom stilu zadovoljit će svakog emo ljubitelja koji neće žaliti niti jedne kune uložene u kupnju albuma. Ionako nemojte zaboraviti da svakom kupnjom nekog artikla od manjih underground distribucija i sami potičete razvoj scene. U svakom slučaju Analena je još jednom pokazala da teži sve kvalitetnijoj svirci te zašto nose epitet ponajboljeg emo-core banda u ovom dijelu Europe, ali mislim da ćemo ubrzo govorit i o puno većim razmjerima, jer sama njihova pojava na Moonlee Recordsu omogućit će im da "pokore još neotkrivene teritorije" jer Mr.Moonlee teži što kvalitetnijoj promociji svoje "djece", a njegova suradnja sa velikim brojem stranih izdavačkih kuća i distribucija omogućit će distribuciju Analeninog izdanja u većini Europskih zemalja, SAD-u…
Mr.Moonlee trebao bi uskoro uspostavit i svoj webshop, pa da sve ne ostane samo na mojim riječima možete posjetit stranice njegove izdavačke kuće i tamo naručiti primjerak Analeninog novog albuma te kako bi oni rekli… I wish you would come to my galaxy…
ocjena albuma [1-10]: 9

kichmar // 13/11/2004