Vec godinama slušam (i oduševljavam se sa) Turin Brakes a u biti mi nikako nije jasno u čemu je stvar. Nije da su nešto posebno - običan duo koji pravi fine pop pjesmice ali opet su mi nekako posebni. Vjerojatno je u pitanju to što sve što Turin Brakes naprave zvuči tako toplo i jednostavno pa je nemoguće ne osjećati dobro iznutra.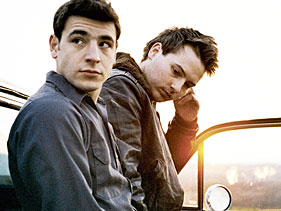 Turin Brakes
Ni novi album "Dark on Fire" nije nikakva iznimka. od pravila Jedino što se promijenilo od prošloga albuma "Jackinabox" je da Turin Brakes zvuče mnogo močnije i na trenutke pomalo olujno jer se na akustiku ovog dua dodalo mnogo dobre produkcije i instrumenata. Turin Brakes mi sa ovakvom produkcijom na "Dark on Fire" podsječaju na još jedan genijalan band - James - a to može biti samo dobra stvar.
Dok neki hardcore fanovi ovakav odmak od sirove akustike gledaju kao lošu stvar, meni je to baš super i na to gledam kao na veliki pomak naprijed. Što se mene osobno tiče dobili smo još jedan izvrstan album u ionako prebogatoj karijeri ovoga britanskog benda. Već se vidim kako ću bezbroj puta slušati cijeli cd:)
Pa poslušajte i vi ako uspijete, jer kako bi oni sami rekli u uvodnoj "Last Chance" : "This is the last chance to heed the call"
Turin Brakes - Last Chance
ocjena albuma [1-10]: 9

kris // 15/01/2008