Najnoviji Sheffieldski izvozni proizvod, nakon isforsiranih ARCTIC MONKEYS i arty nastrojenih THE LONG BLONDES, dobio je ime po klasiku s Jodie Foster i mladim Adamom Hann-Byrdom. Da podsjetim, Sheffield je u 80ima dobro popunio elektro scenu svojim benodvima kao što su Human League, Heaven 17, ABC ili elektro industrial abaret Voltaire, dok su u novije vrijeme najprisutniji bili PULP predvođeni Jarvisom Cockerom, te Moloko i Autechre.
Specifičnost bendova s tog područja je da se najčešće nastavljaju na ostavštinu svoga grada ili bliže okolice, pa tako i LITTLE MAN TATE, ponajviše duguju buntovnom izričaju urbanog britanskog punka čiji su predvodnici bili THE JAM u što je umiješana poezija bliska Jarvisovoj, na najbolji mogući način.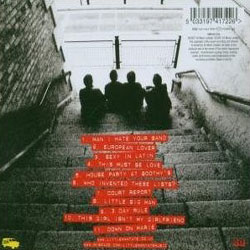 To se prije svega odnosi na najbolje pjesme, kao što su This Must Be Love u kojoj "you said i was too fat, i said that you were too thin, you kissed me right on the lips, then kicked me right in the shin" ili Sexy in Latin u kojoj " we've done it everywhere, you scratch my back, i pull your hair, we've even done it on the stairs". S druge strane u This Girl Isn't My Girlfriend "well i noticed her stood at the bar, i thought are they great boobs of a wonder bra", a na House Party At Boothys "girls sing to kylie they try to look sexy".
Ostatak albuma zanimljiv je, kako glazbeno, tako i textualno i prihvatljiv na prvu loptu, a već nakon drugog slušanja uhvatio sam se pjevušeći barem polovicu pjesama
Najbolje pjesme:This Must Be Love, Sexy In Latin
ocjena albuma [1-10]: 8

pedja // 29/01/2007