The Radio Dept. su švedski shoegaze-dream pop bend koji svoju popularnost nisu zadržali samo unutar granica matične države. Svojim sanjivim melodijama baziranim na finim gitarističkim dionicama koje naginju indie popu te ugodnom vokalu pronašli su mjesto u mnogim domovima širom kugle zemaljske. Već s prvim albumom "Lesser Matters" postavili su temelje prepoznatljivosti, a moguće usporedbe idu prema Kings of Convenience ili Belle and Sebastian. S trećim albumom
"Clinging to a Scheme"
zakucali su status, imali čak i neki poluhit s Heaven's on Fire, i kad su trebali upasti u prvu ligu, krenuli su problemi s izdavačem (Labrador), sudske tužbe i koješta drugo, što je rezultiralo diskografskom pauzom od šest godina. A to znači i pomalo padanje u zaborav.
Da se baš ne izgube do kraja, prije dvije godine objavili su internetski singl Death to Fascism, koji nam je postao zanimljiv zbog upotrebe grafita "Smrt fašizmu, sloboda narodu", i izgovaranja parole na nama poznatom jeziku.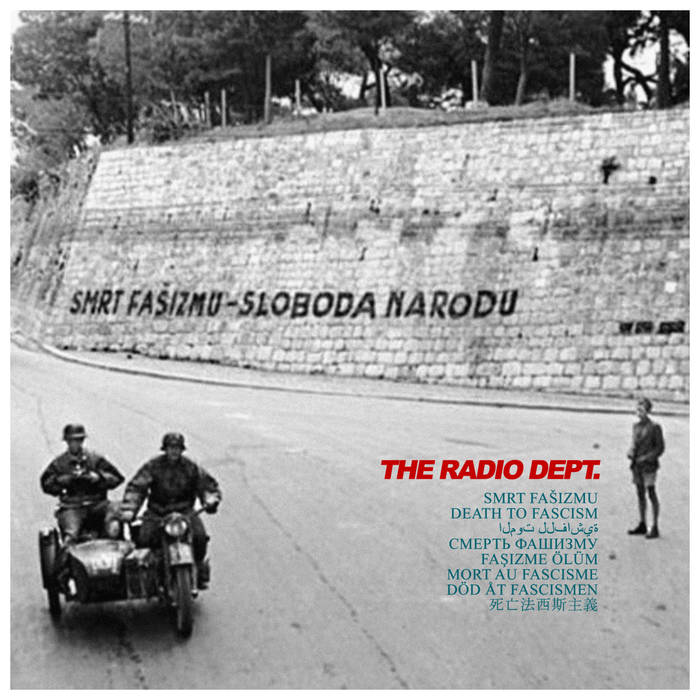 Izgubivši parnicu, ostali su Labradoru dužni još jedan album. Sada samo dvojac, Duncanson i Larsson, odlučili su napraviti lagani zaokret u muzičkom smislu i prebaciti se na elektroniku. Koliko su uspjeli u tome, možemo čuti na novom albumu, a čiji zajednički nazivnik je politika, odnosno njihovo viđenje iste.
Album počinje, opet nama poznato, sa Sloboda narodu, prilično bezveznom i nedorečenom nabrajalicom u nekom polubalkanskom ritmu. Nakon predugog intra i kratkog centralnog dijela, pjesma naprasno završava taman kad se trebala razviti u nešto dobro i plesno. Swedish guns, kojom nastavljaju, neizbježno asocira na sunarodnjake Ace of Base.
Srećom, nakon toga pjesme se poboljšavaju, postaju artikuliranije i slušljivije. We got Game i već otprije poznata Occupied koketiraju s plesnom techno/house elektronikom, što daje u potpunosto novu dimenziju na zvuk benda. Uz Commited to the Cause ostajemo u plesnom ritmu, ali se selimo malo prema "madchester baggy" zvuku, i moram priznati da im i taj aspekt dobro stoji.
Ostatak bi se mogao ubaciti pod neki electro-gaze zvuk, sve popularniji među shoegazerima koji su se zasitili samo gitara. Tu prednjače This Thing Was Bound to Happen i Teach me to Forget.
Iako sam od ovog albuma očekivao nešto sasvim drugo, na kraju nisam ostao razočaran, jer mi se čini da su Radio dept. ovime proširili vidike i sebi i meni, a iako je prerano za reći, baš me zanima u kojem će smjeru krenuti nakon ovog.
ocjena albuma [1-10]: 7

pedja // 27/10/2016