Već sam se zabrinuo da se ovaj sjajan, ali posve nepoznat bend iz normandskog gradića Evreuxa nije raspao jer se o njima ništa nije čulo punih 5-6 godina od debija "Escape" kome sam odmah u šusu, bez ikakvih razmišljanja dao 10.
Ne znam kakvi su bili odjeci tog strašnog prvijenca s kojime su potpuno zasjenili kompletnu post-grunge/alter-rock scenu, ali izgleda da i nisu bili s nekim širokogrudnim feedbackom. Možda je razlog tome što su iz provincije, možda zato jer su tvrđi po zvuku blago naginjući iz post-grungea u natruhe metala, možda zato jer nisu trendovski indie-rock, a možda i zato jer se na prvi pogled stiče dojam da ovakvih bendova danas ima kao pljeve. Istina, novi drugi album je tek nešto 'mekši' barem u prve tri kompozicije "
You're wrong"
, vrlo laganom
"Lonely"
i "
Move on"
s elementima U2 na kojima se uočava i prinova Laurent Violette na klavijaturama koje su ranije bile tek sporadične, ali je za pretpostaviti kako bend nije nikud srljao pomno dotjerivajući svaki detalj kompozicija sve dok potpuno ne sazriju. Upravo prvonavedena i treća imaju sve predispozicije za potencijalne hit-singlove, uostalom na završnici albuma su dodane i kao kraće 'radio edit' verzije. Prave žestice tek pristižu kako se album kotrlja od naslovne "
Until the sun goes down"
, preko brze i energične rokačine "
Fighter"
, eksplozivne načekuše
"It's alright"
, sve do Radiohead-ovskih "
Scalding tears"
i lirski vrlo košmarne "
Powerless"
iz epohe "The Bends", te jedine akustične "
Murky weather"
obavijene i gudačkim aranžmanom.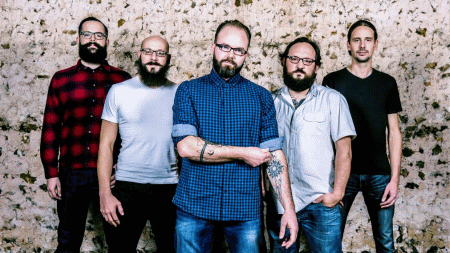 10 velikih pjesama priređenih za možebitno značajniji i znamenitiji doseg Kinky Yukky Yuppy ne bi trebale ostati neprimjećene. Sve su vrlo emotivne, ozbiljne, katkad drskije i raskošno otpjevane, a bome poneki put i odvrištane senzibilnim vokalom
Jérémi Tomczyka
prolongirajući suvremenu inačicu "The Joshua Tree" potkrijepljenu post-grunge zvukom nastavljajući odličan niz novih francuskih bendova poput Light Deflection (sjajan d.i.y. EP "Monster"), Appollonia, Herr Geisha And The Boobs i još nekih koji prelaze jasne konture žanrova oblikujući svoj prepoznatljiv izraz. Pričekajmo na medijski odjek jer ovakvo remek-djelo modernog alternativnog rocka ne bi trebalo ostati marginalizirano.
Naslovi: 1.You're wrong, 2.Lonely, 3.Move on, 4.Until the sun goes down, 5.Fighter, 6.It's alright, 7.Somebody else, 8.Scalding tears, 9.Powerless, 10.Murky weather, 11.Move on (radio edit), 12.You're wrong (radio edit)
ocjena albuma [1-10]: 9

horvi // 23/03/2016