U nešto obrnutom slijedu, čudnovatom za promotera, evo nakon što smo predstavili njihovo drugo izdanje EP "Keep It Fast", tek sad na red dolazi zvanični debi Motorheada iz Strasbourga.
Prvo što me iznenadilo uz ovo naknadno kašnjenje materijala jest da su ova tri momka vrlo mlada. Po fotosu koji se nalazi u fino dizajniranoj knjižici cd-a ne bih mogao točno precizirati njihove godine, ali čini mi se da nemaju više od 25, a drugo kad sam prelistavao istu misleći da su odštampani tekstovi 15 autorskih kompozicija, ono - brus. Za svaku pjesmu su napisali neke svoje komentare o značenjima, a tek tu i tamo su ispisali refren ili dio stihova. Ono što se nazire iza svih tih napomena jeste drska lirika o cirkusu života, džungli, ignoriranju ulizica, borbi s demonima života, pričicama o njihovoj svirci, bijesu kojeg kanaliziraju u nju, lažnim obećanjima, izdajicama, neispunjenim očekivanjima, paranoji svakodnevnog stresa na poslu, izgaranjima za nečije kapitalističke ideale i tako svašta s gotovo punkerskim svjetonazorom uz glavnu napomenu da je kopilad svjetska budućnost.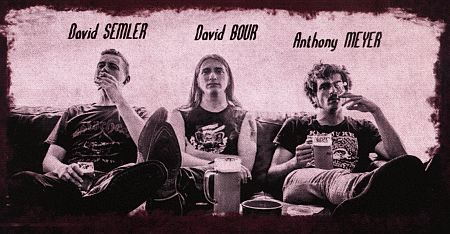 Svirka je urnebesni r'n'r metal u rangu Motorhead, tu se nema što suvišno debatirati. Koncizno, žestoko, galopirajuće i vrlo jednostavno da luči adrenalin od prve do zadnje minute, a svaka pjesma za sebe je jedan ultimativni hit s manje-više himničnim refrenima, obaveznim solažama i vrlo kratkim tajmingom od 2 i pol do 3 i pol minute. Treba samo pojačati do daske i imati kondicije za odvaliti punom snagom ovih 55 minuta gdje su 3 posljednje pjesme
"Jungle speed", "Bastards are the future of the world"
i
"Pancho Villa"
snimci uživo.
Naslovi: 1.Jungle speed, 2.Dr.Reason, 3.Pancho Villa, 4.Daily circle, 5.Rock this place, 6.I am the lizard, 7.Live with the change, 8.Reverse mirror, 9.Empty promises, 10.Animals, 11.Breaking the past, 12.Fast & on time, 13.Bastards are the future of the world, 14.Burning on the giant chair, 15.Boogie woogie violence, 16.Jungle speed (live), 17.Bastards are the future of the world (live), 18.Pancho Villa (live)
horvi // 11/03/2016