Uvijek sam volio kad bendovi imaju progresiju u zvuku, iako ta progresija može otići ponekad toliko daleko da je nemoguće zamisliti da je to isti bend. Ovdje progresija nije pretjerano velika, ali sasvim dovoljna da možemo reći da je preobražaj uspio. Od zabavnog benda And The Kid su se profilirali u jednog ozbiljnog izvođača koji je dobro utabao put kojim hoda. Album je otpjevan na engleskom jeziku, ali tekstovi koje And The Kid isporučuju nisu apstraktni i relativno ih je lako povezati. Nekako nisam siguran da postoji netko, tko je iole unutar onog što popularno nazivamo underground, da može postaviti negativnu dijagnozu ovom albumu.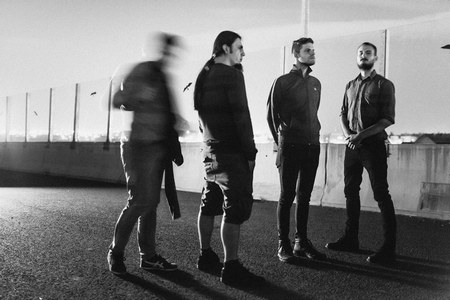 And The Kid © facebook
Glavni vokal ima uvjerljivost u interpretaciji. Bilo da pjeva o zapadnom svijetu ili revoluciji kod kuće, njegov glasu ima boju i aromu koja je između apatije i gnjeva. I koliko god album prolazi kroz nekoliko glazbenih faza, gdje sam čuo i Suede i Pixies i jednu od faza Lemonheadsa, uspjeli su prikazati svoju priču. Oduševljava glazbeni minimalizam u pjesamama, kojim su uspješno izbjegli zamke demo bendova, već ga pretvaraju u svoju pobjedu. Jedan očitih primjera je balada "Unemployed, Yet Still Busy". Usnjak je pjesmi donio atmosferu Youngovih divljih konja i uklopio se kao budali šamar. Melodija u "I'm Not Like You" ima pop ugođaj koja daje tvrđi hommage Blondie hitu "One way or another".
U odnosu na debut, izgovor engleskog jezika na
Grand Mall
je puno konkretniji, nema jezičnih repova o kojima čovjek razmišlja dok sluša album. Kad govorimo o glazbi kroz paralele oba albuma, And The Kid su i tu napredovali. Njihova glazba je na ovom albumu mračnija, ali zvuk ima punoću kojom su uspješno preskočili bar jednu stepenicu u razvoju grupe.
Kompletno gledano, And The Kid su uspjeli stvoriti odičnu ploču. Desetak pjesama trajanja ispod trideset pet minuta sasvim je dovoljno da se dobiju pravi obrisi grupe. I imaju jednu posebnu mantru, onu koju sam osjetio i kao klinac kad sam prvi put čuo Joy Division. Dok je debut negdje između nevinosti Jonathana Richmana i indie zvuka Pixiesa i Smithsa, ovdje su And The Kid odgrebali nevinost i skinuli jumf.
ocjena albuma [1-10]: 8

jura // 29/04/2015