Čepmenovci su doživjeli velike promijene. Ostali su bez dva vitalna muzičara - glavnog gitarista Paula i bubnjara Phila, pa su lukavo umjesto dvije zamijene pronašli tri - Owena (gitara), Kevin Jamesa (bas) i Scotta (bubnjevi). Od originalnih Čepmenovaca su ostali samo frontmen Kingsley koji sada svira klavijature (ranije je bio gitarist) i Pop koji je bas zamijenio noizerskom gitarom.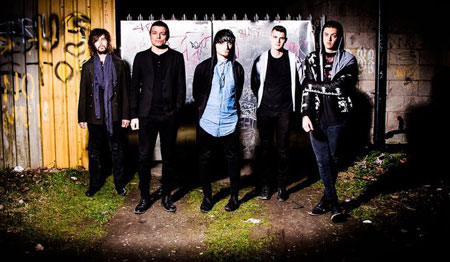 Moglo bi se očekivati da su izgubili neke od prepoznatljivih karakteristika odličnog debija
"Burn Your Town"
, ali ne! Naprotiv, ovaj EP nakon više od godine dana diskografske pauze je itekako dobrodošao 20-to minutni rad koji pokazuje znatno finiji, čišći, jasniji, energičniji, skladniji i harmoničniji opus. Nestale su sve one konfuzne i čudnovate opsesije s debija koje su mnoge bacale u nedoumicu da li su The Chapman Family šarlatani ili vješti rock alternativci. Da, oni su sada bez ikakve dileme postali svojevrsni majstori britanske indie scene i dalje oslonjeni na etiku post-punka s obilatim noiseom i mjestimičnim shoegazom, a sve na relacijama Joy Division, The Jesus And Mary Chain, Sonic Youth, The Cure, Echo And The Bunnymen, pa i Interpol u novom ruhu.
Kingsley ovdje zvuči kao pljunuti Ian McCulloch, taman ugođen u sive i mračne teksture pjesama koje nisu nimalo optimistične. Singl "No more tears" u brzom plesnom tempu govori o čestim vijestima slanja mrtvih vojnika sa svjetskih frontova spakiranih u ljesove za koje nitko ne postavlja nikakva pitanja, a "Cruel Britannia" i "This English life" su posvećene nacionalnoj udrugi za obranu (English Defence League) i nedavnim neredima na ulicama Londona. U njima se hvataju apatije i nezainteresiranosti Britanaca zavaljenih u mirnoći kućne intime sa šalicom čaja što kod Kingsleya izaziva veliki bijes i srdžbu da se neke značajne društveno-političke stvari dešavaju bez aktivnog učešća građana. Mirni shoegazerski komad "Summer song" sa introspektivnim Echo And The Bunnymen raspoloženjem govori o završetku jedne propale emotivne veze, a kao svojevrsno iznenađenje, tu je još i obrada čuvenog Morrisseyevog hita "Every day is like Sunday" u iznimno laganoj varijanti sa klavijaturama.
Priče koje kruže o njima govore da imaju ekscentrične i divljački razjarene nastupe koji frcaju energijom, a ovaj kratki EP se sasvim sigurno uklapa u taj image. Približili su svoj live performans širokoj publici i dali do znanja da se na njih itekako treba računati u budućnosti.
ocjena albuma [1-10]: 8

horvi // 19/09/2012