Prošle subote zaputio sam u kvartovski birc zvan ex-Kinoteka , na koncert grupe Tower of Songs. Prilično zadovoljan njihovim prošlim koncertom u Saxu, gdje su odsvirali dostojan tribute Leonardu Cohenu, očekivao sam takvu razigranost i za Dylana. A to, mora se priznati, nije lako. Naime, što i kako svirati od nekoga tko ima 34 studijska albuma iza sebe i mnoštvo ličnosti, nekoga tako neuhvatljivog i neprilagodljivog kao Dylan. No, uzdajući se u Tower of Songs, i njihov retro pristup, približavao sam se bivšoj Kinoteci i prvo što sam zamijetio bilo je dosta ljudi na vanjskoj terasi, unatoč kiši, i shvatih…prokleta zabrana pušenja.
Par piva i ekskursa na terasu kasnije, bend je energično započeo, sa pjesmama It's Alright Ma, (I'm Only Bleeding) i Billy, sa soundtracka filma Pat Garett i Billy the Kid .
Nakon toga je uslijedilo par stvari sa Dylanovih krščanskih albuma iz sredine sedamdesetih uz dodatak Blowin in the Wind te meni najdraži dio koncerta- četiri stvari sa nepravedno zapostavljenog albuma Desire, gdje su se dvojici gitarista pridružile i dvije mlade djevojke kao back vokali. Nakon I Shall be Released i Lily of the West uslijedila je pauza.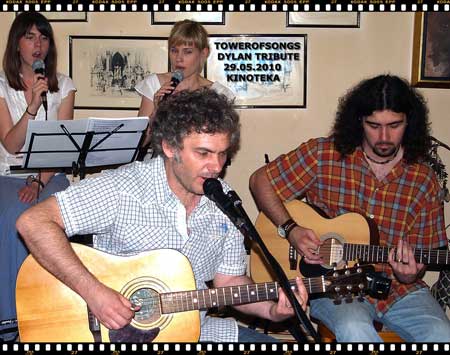 Bob Dylan tribute -Tower of songs © Nikola Šerventić
Drugi dio je bio pomalo žešći od prvog, i vremenski lociran u šezdesetima, gdje sve najkultnije stvari prebivaju (no dobro, nije ni ovaj najnoviji božićni album loš, naprotiv).
Rezimirajući,moram priznati da je ovo bila dobra posveta Dylanu. Nikako ne i imitacija, što je zbog specifičnosti dotičnog prilično uzaludno. Tower of Songs su svaku stvar uspjeli nekako prisvojiti na svoj minimalistički, retro način. Uz samo dvije akustične gitare i povremene back vokale, kroz razigranost i improvizacije, uspjeli su dati širinu svakoj pjesmi. Koncert je prošao u dobrom ritmu, premda ni 49 pjesama najavljenih na plakatu ne bi bilo previše. U svakom slučaju, pružili su dobru uvertiru u skorašnji Dylanov koncert i u jednu kišnu, alkoholnu subotnju večer.
Ivan Radoš
terapija // 10/06/2010