U sklopu programa "Ljeto u Jabuci", gdje će ulaz na sve programe biti besplatan, u zagrebačkom kultnom klubu Jabuka će se u subotu 09. sprnja održati još jedna 80's veselica pod nazivom "80's Forever" gdje će vas Tomi Phantasma provest kroz zlatne jabučarske osamdesete!
Party počinje u 23 sata, a na partyju će se vrtiti plesni hitovi od 1976. do danas, Bit će tu 80's classix, sinth pop, post punk, new wave, dark rocka, novog vala,.... tj. Depeche Mode, Human League, Soft Cell, Ultravox, Aphaville, OMD, Eurythmics, Yazzo, Adam & The Ants, Pet Shop Boys, The Stranglers, The Cure, Sisters Of Mercy, Bauhaus, Camouflage, DAF, EKV, Tears For Fears, Violent Femmes, Talking Heads, Morrissey, New Order, Front 242, Nitzer Ebb, Laibach, Cyndi Louper, Gang Of Four, Lene Lovich, The Cult, The Cramps, Nick Cave, The Smiths, David Bowie, Videosex, Boa, Blondie, Billy Idol, Dead Kennedys, Heroes Del Silencio, Big Black, Visage, Blancmange, The Clash, Ramones, A Flock Of Seagulls, ..... te neoeighties bendovi poput Placebo, Editors, Interpol, Franz Ferdinand, Covenant, Suede, Love Amongst Ruin, White Lies, Prodigy, Bjork,.....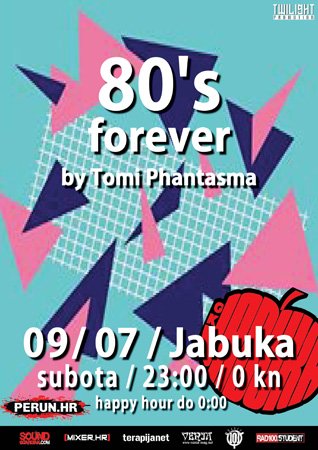 Važno upozorenje!
Zabranjeno postavljanje slijedećih pitanja DJ-u;
1. Da li ćeš pustit nešto plesno? (a taman svira "Blue Monday")
2. Da li će cijelo večer bit "ovakava" muzika? (Da! Ti si u Jabuci! Halo!!!)
3. Da li ćeš pustit nešto poznato? (a upravo svira Ultravox!)
Večer započinje u 23 sata, a besplatan ulaz je cijelu noć, dok će happy hour trajati do ponoći.
Dobrodošli!
promo girl // 04/07/2016