U sedmom mjesecu booking agencija Sound by Zlays nam dovodi dva odlična heavy metal benda. Gonoreas i Wicked Plan nam dolaze iz Švicarske. Oba benda sviraju čistokrvni heavy metal.
Bend Gonoreas do sada je izdao 6 albuma: Outbreak, Destructive Ways, Live in Tokyo, Plead Not Guilty, The Mask of Shame, Apocalypse. Bend je jako koncertno aktivan tako da iza sebe tristotinjak koncerata.
Drugi bend Wicked Plan ima atraktivnu mladu pjevačicu Natali Keller, koja je studirala glazbu na akademiji za suvremenu glazbu (ACM) i ne krije utjecaj Dia i Dickinsona. Oni su melodičan heavy metal bend sa gitaristom koji voli spajati elemente heavy metala i klasične glazbe.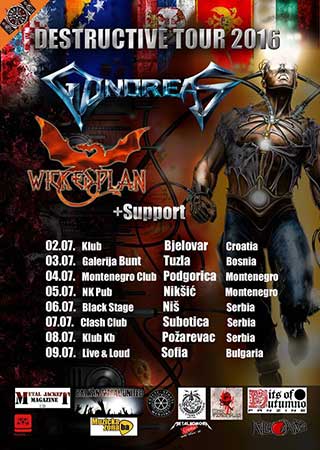 promo guy // 07/05/2016